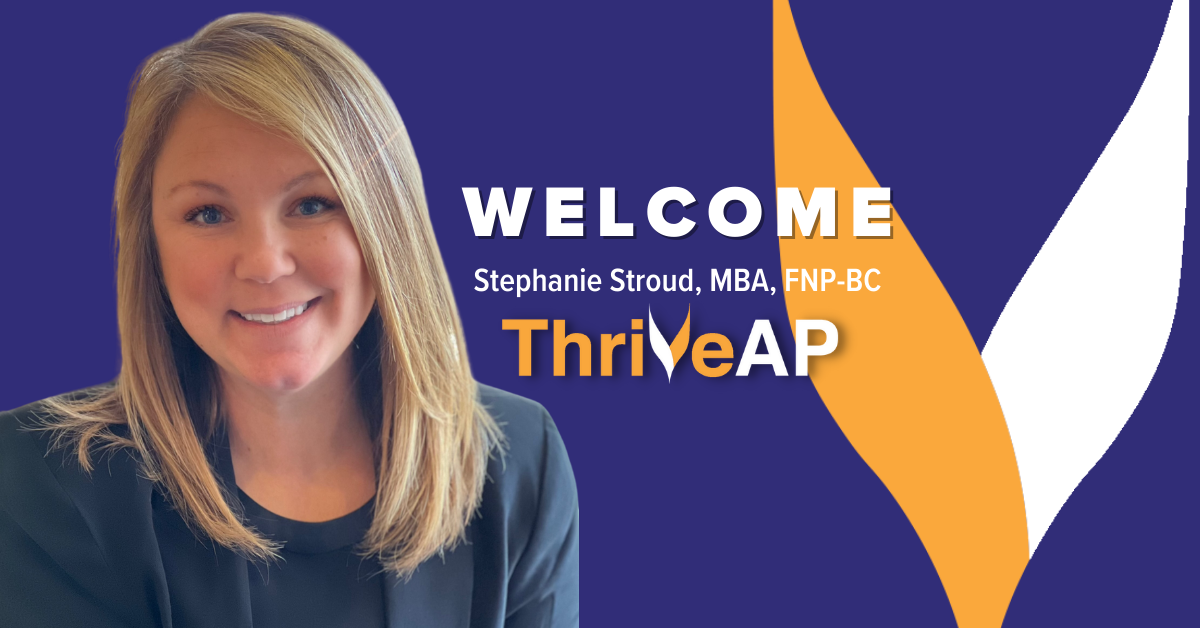 ---
ThriveAP, the nation's most trusted resource in transition to practice education, is thrilled to welcome Stephanie Stroud, MBA, FNP-BC to our growing team. Stroud, Director of Operations, Medical Specialities, will have strategic oversight of ThriveAP's Acute Care programs.

The ThriveAP Acute Care programs are transition to practice curriculums that empower NPs and PAs to practice at top of licensure during the delivery of inpatient care. Stroud's extensive healthcare experience and working knowledge will complement the crucial responsibilities of the Director of Operations, Medical Specialities, including, the development of new programs in addition to the oversight of our current Hospitalist Medicine offering.

An experienced Director of Advanced Practice Providers (APPs) and an actively practicing hospitalist, Stroud will bring more than 15 years of experience to the company, including large scale APP program planning and development, expansion of APP fellowship programs, and strategic leadership activities aimed to improve APP operations and optimization.
"We are excited to welcome Stephanie to ThriveAP. Her dedication and commitment to the APP community will drive continuous improvement of our Acute Care curriculums and serve as a clinical resource in the development of future acute care programs. It is important to our strategic vision to elevate and support the advanced practice provider community, Stroud's considerable experience leading APPs within a heavily matrixed healthcare system, paired with her passion for transition to practice makes her a welcomed asset to the ThriveAP team," said Veronica Hill, DNP, CRNP, Vice President of Clinical Operations for ThriveAP.
Commenting on Stroud's appointment, Jim Creason, President & CEO of ThriveAP said, "The opportunity to welcome Stephanie Stroud, MBA, FNP-BC, an experienced and passionate provider, with substantial expertise and competence in the Acute Care setting, was an obvious decision for ThriveAP and a major milestone for the organization. Stroud's contributions to the company as Director of Operations, Medical Specialities will help build upon our mission to support advanced practice providers nationwide in the delivery of comprehensive transition to practice solutions."
Prior to joining ThriveAP, Stroud held leadership roles with Medical College of Wisconsin as an APP Director, Director of Student Placement, Director of APP Professional Development and Co-Director of APP Fellowships. Additionally, Stroud has partnered with executive leadership to optimize Inpatient APP operations, productivity and workforce management. She also served as a service line leader for Neurosurgery and led local large quality and process optimization projects, a Neurosurgery APP transition to practice program, as well as oversight of APP operations. Stroud has also held leadership roles with Children's Wisconsin as a Senior Division Administrator. Stroud obtained her MBA in Healthcare Administration and Management and holds her Lean Six Sigma Certification.

---
About ThriveAP
Founded in 2012, ThriveAP has become an important education resource for Advanced Practice Providers and their employers throughout the nation. ThriveAP's programs help facilitate the growing impact of APPs in the delivery of healthcare and is recognized for its quality, relevance, and convenience. The ThriveAP program blends interactive educational experiences, community, and support to improve provider productivity, proficiency, and confidence through real-world skill development. Learn more, ThriveAP.com
Your email address will not be published. Required fields are marked *
STAY UP TO DATE WITH NEWS & BEST PRACTICES
Form