Cardiology PA & NP Continuing Education & Training Development
The ThriveAP Cardiology Program offers education to NPs & PAs for the purpose of providing safe and effective cardiovascular care by developing the skills, knowledge, and attitudes required to enter the practice of cardiology, and establishing a foundation for continued professional growth.
To achieve this goal, ThriveAP has developed a cardiology curriculum consisting of 10 core blocks:
1. Fundamentals
2. Clinical & Cardiovascular Disease Prevention
3. Cardiac Arrhythmias & Electrophysiology
4. Valvular Heart Disease
5. Aorta & Peripheral Vascular Disease
6. Ambulatory & Longitudinal Care
7. Cardiac Critical Care
8. Heart Failure & Cardiomyopathy
9. Consultative Care
10. Adult Congenital Heart Disease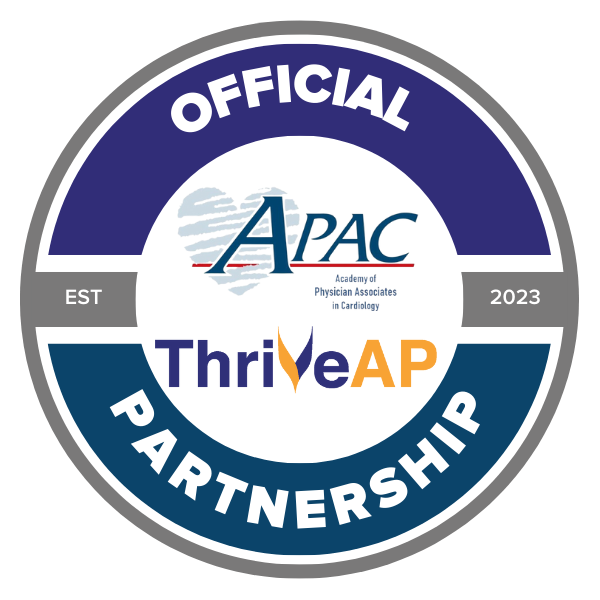 Endorsed By & Partner of APAC
The ThriveAP Cardiology transition to practice curriculum is endorsed by The Academy of Physician Associates In Cardiology (APAC). Participants in the ThriveAP cardiology curriculum gain access to APAC's membership benefits including educational opportunities, community involvement, and political representation and advocacy.
Online Cardiology Nurse Practitioner & Physician Assistant Program
Professional Development & Clinical Cardiology Nurse Practitioner & Physician Associate Discussions
Professional Development
Leadership insights to help providers approach and manage career efficiency. Featured topics:
Interdisciplinary: Team Based Care
Improving Financial Documentation
Mindset for Success as a Provider
Clinical Discussions
Emphasize knowledge application through translating clinical topics. Featured discussions:
Strategic Prescribing
Cardiology Lifestyle & Diet
Losing Weight & GLP1s
Rise & Thrive Workshop Series
Providers enrolled in ThriveAP's Urgent Care curriculum gain access to dynamic, in-depth provider workshops focused on trending, hot topics NPs and PAs face daily in practice. Rise & Thrive Workshops are a structured benefit for participants but also available for purchase as a series subscription for providers not enrolled in a ThriveAP transition to practice curriculum.
12-monthly, Saturday morning workshops
Approved for CME/CE hours by the accrediting bodies ANCC and AAPA
Focused on new & emerging didactic information providers need to know
Sample Topics include: Wellness Exam & Documentation (HEDIS Measures), Interpreting EKGs, and Office Emergency or Urgency?
ThriveAP participants gain access to workshop series as an added value to their curriculum
Select which best identifies your goals and get started on your transition to practice journey!
Ready to Get Started with the Best Cardiology Nurse Practitioner & Physician Associate Program?
If you're interested in learning more about the ThriveAP Cardiology Program or you have questions about our unique and innovative curriculum, we're happy to help!

In the meantime, check out our blog to learn more about how ThriveAP's educational solution develops the competencies and practical skills APPs need to optimize their performance.
Contact us today.