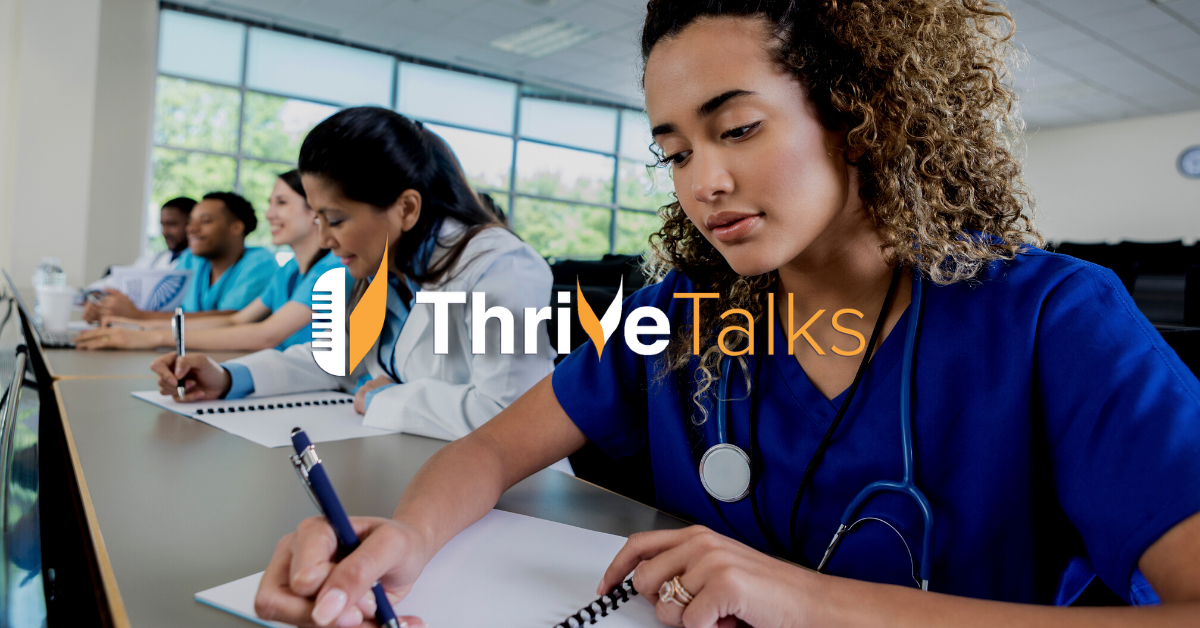 ---
Are you looking into operationalizing a transition to practice program to support your advanced practice provider workforce? In ThriveTalks episode 8, Veronica Hill, DNP, CRNP, Vice President of Clinical Operations at ThriveAP describes the necessary steps organizations need to take in order to develop a formal and successful PA and NP onboarding process.
You may also be interested in these previous ThriveTalks episodes:
---
Key Didactic Components of a Transition to Practice Curriculum
Read the ThriveTalks Episode 8 Transcription:
Hello and welcome back to ThriveTalks. My name is Veronica Hill, DNP, CRNP and I'm the VP of Clinical Operations here at ThriveAP. In our last ThriveTalks episode we discussed the essential components of a robust onboarding program. One of those key components is the didactic portion. Any residency, fellowship program, or transition to practice program all have didactic components, and sometimes the didactic portion is the most difficult piece.

Today we're going to speak to three main components of the didactic piece:
Content
Speakers
Delivery
---
Looking for a template onboarding checklist? Download our free Physician Assistant and Nurse Practitioner Onboarding Checklist. The checklist contains guidance and step by step suggestions to ensure your onboarding process is as efficient as possible.
---
Didactic Components for Transition to Practice
Here at ThriveAP, when we are developing new curriculums, we take a few things into consideration.
Content: We research what are the most commonly diagnosed conditions within a particular field. That way we get our new graduates, or those that are new to a practice area, confident in what they're going to see most every day. Their confidence, their efficiency is going to ramp very quickly by creating the didactic education in this manner. Additionally, we consider what else is out there, what societies or associations have given guidance into what should be included in an evidence-based program.



Speakers

: We look for speakers. These speakers are experts in their fields and are content experts. We search for speakers that have been presenting on this content for years. We do this because not only do we want field experts, we also want engaging speakers. You have to be able to deliver that content so the person receiving the content retains it and can reference it when needed. So how do you find these speakers? It's not easy. It is has taken us years to develop our faculty, but you can attend different conferences, you can reach out on board websites. You really just have to make the ask, speakers are typically more than happy to consider speaking for your organization.


Delivery: Lastly, I want to speak to the delivery platform. If your faculty is presenting live, that is wonderful. We have found that is the best way to deliver the knowledge to your new grads or your new to practice apps- this is why all of ThriveAP's transition to practice education is taught live and virtually.

If you do record the presentations, you need to find a way to store that information. You can store it on your local share drive, or you may have a learning management system. Either way the information is stored, it needs to be easily accessible by your clinicians. An additional consideration is, will there be a time limit on how often the content can be/should be accessed or reviewed?

With a recording, you also need to keep in mind that you will need to update the content. Don't just record it and forget it. Providing that content live allows you to get the most up-to-date information every time someone speaks.


I hope you found this helpful. Thanks for tuning in.

---
Turnkey Didactic Transition to Practice Education
As you can see building your own didactic education portion of a transition to practice program, APP fellowship, or residency is a huge undertaking. It is a large resource expenditure and needs continuous maintenance. You can skip the process and augment your program or fellowship with one of the ThriveAP accredited curriculums. We offer evidence-based instruction paired with community insights and professional development leadership discussions to help advanced practice providers accelerate their ramp time and confidence in practice. We offer curriculums in both primary care and acute care.
Allow us to handle the didactic education with our proven transition to practice education. Request a consultation.
Your email address will not be published. Required fields are marked *
STAY UP TO DATE WITH NEWS & BEST PRACTICES
Form