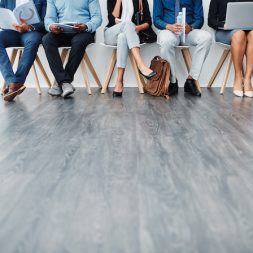 ---
Is there a unique specialty area or healthcare organization that you have been dying to work for? Perhaps you have several facilities on your radar that fit right in line with your nurse practitioner career goals but the only problem is, none of these organizations ever seem to have an opening. If this is you, don't give up on your career aspirations just yet. Here are three ways to land a NP job with a facility that's not actually hiring.
1. Don't shy away from sending your cover letter and resume
Never underestimate the power of sending a professionally written cover letter and a neatly organized resume to an organization that doesn't have any openings posted on their job board. It's one of the simplest yet most effective ways at getting yourself noticed by a prospective employer. That's not to mention that career experts estimate that approximately 70 to 80% of open positions go unadvertised; so while it may not look like the facility has any NP positions available, there's a good chance they just might.
Bear in mind that when you're unsure whether a company is actively hiring, your cover letter should be formatted slightly different than a traditional cover letter. Referred to as a cold contact cover letter or a letter of interest, it's imperative that in it, you make a strong pitch for who you are, what you have to offer, and why you're specifically interested in working for this particular organization (here are a few tips if you're not sure the facility is open to new grad nurse practitioners).
It may take some digging, but spend some time researching to find out who the best person at the organization is to send your resume to such as a department head for your specialty area or the founding physician at the practice; and if it's a larger hospital system, be aware that there may be a third party employer who hires providers. The research process may be tedious but it'll be worth the effort in order to get the right person's attention. It never hurts to call and find out who the appropriate person is if an internet search doesn't turn up any results.
2. Ask for an informational interview
There are certainly instances when recruiters and hiring managers will create new positions for the right candidate but there's also a solid chance that requesting employment outright will be met with swift rejection; although these individuals may hold some power within the organization, they're not magicians. Don't allow a "no" to stop you from continuing an employment conversation though. If you know for certain that the organization isn't currently hiring, try asking for an informational interview; they differ job interviews in that not only can they be less formal (taking place over coffee or a LinkedIn message), they're moreso a networking opportunity for you and a chance for you to learn more about the facility or new specialty to help you decide whether it really will be a good fit for you in the future. An informational interview will ultimately help you to establish a genuine connection between you and your desired employer so that when they are actually hiring, you're already on their radar.
3. It's all about who you know
Ahh, the old adage, "it's all about who you know"; annoying as it may be, there's a good reason for it. Reaching out to your network to see who you know with an affiliation with a specific organization is a powerful way to get your foot in the door. LinkedIn is a great tool for seeing who you may know that could help facilitate an introduction between you and a prospective employer; such as people you attended school with, or former coworkers who happen to be employed there now. Reach out to these individuals with a short message and ask if they would be comfortable with connecting you to the hiring manager.
Landing a job with a healthcare organization that isn't actually hiring isn't impossible, it just takes initiative and persistence on your part. Remember, when there's a will, there's a way. Plant the seeds and be patient with the process. If working for this organization really is your dream job, it will be worth the effort you need to put in.
Your email address will not be published. Required fields are marked *
STAY UP TO DATE WITH NEWS & BEST PRACTICES
Form