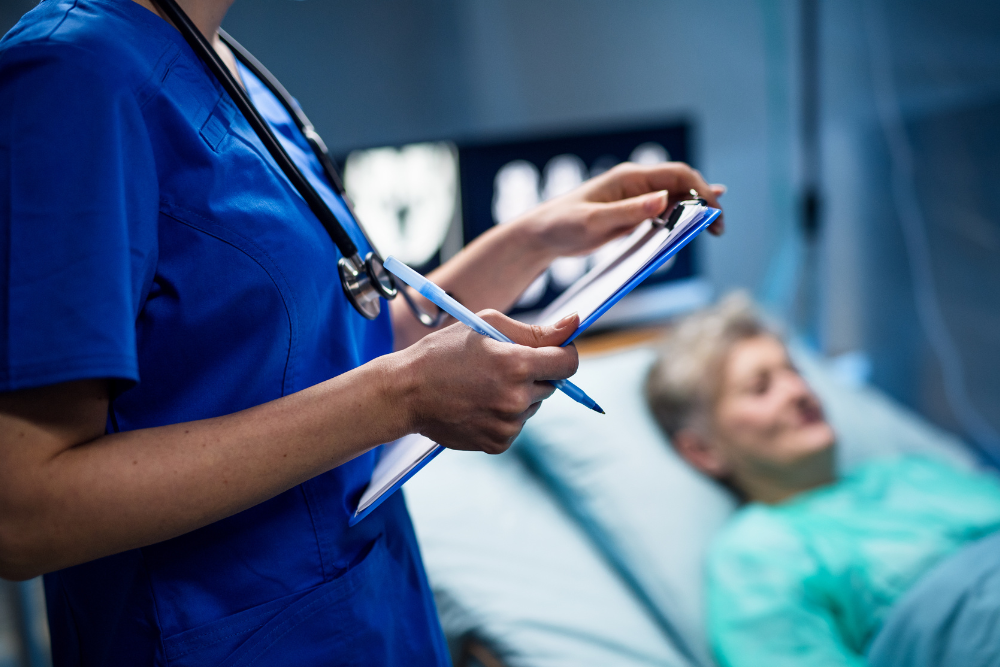 ---
ThriveAP, the leading transition to practice educational solution for advanced practice providers (APPs), is excited to announce our newest transition to practice curriculum, Acute Care focused Hospitalist Medicine.

"At ThriveAP, we know Nurse Practitioners and Physician Assistants /Associates play a critical role during the delivery of inpatient care. We aim to support advanced practice providers through a meaningful approach that will advance strategic growth in an acute care setting, while driving provider confidence and meeting market-demand," said Veronica Hill, DNP, CRNP, Vice President of Programs and Content at ThriveAP.
The Hospitalist Medicine program helps providers practice at the top of their licensure through a 12-month, live and virtual curriculum taught by actively practicing, board-certified experts. The evidence-based curriculum focuses on clinical competency and professional development that translates provider knowledge into confident application. The Acute Care focused program consists of 10 core curriculum blocks:
Foundations of Hospital Medicine
General Medicine
Neurology
Cardiovascular
Nephrology
Endocrine
Gastroenterology
Infectious Disease
Pulmonary Medicine
Palliative Medicine
To develop the Acute Care program, ThriveAP engaged a committee of healthcare systems. The committee collaborated in the development of the program to compare goals, visions, and challenges. ThriveAP incorporated common diagnoses, best practices, and proven techniques from the Department for Health and Human Services, the Society of Hospital Medicine, our collaborative committee, and our existing program to achieve our unique Acute Care transition to practice solution.
"Being part of the collaborative development committee for the Hospitalist Medicine program was important to us because at the University of Tennessee Medical Center we recognize that providing continuing educational opportunities and supporting the development of our APPs results in measurable value for the provider, their healthcare team, and patients. This is why we place great emphasis on supporting new graduates as they transition into practice," said Chris Ferron, MBA, PA-C, Director of Advanced Practice, University of Tennessee Medical Center. "We believe the curriculum blocks paired with clinical discussions and professional development topics successfully meet the needs and quality expectations of inpatient care."
"It is important to us, at ThriveAP, to provide enhanced educational opportunities across the spectrum of care, enabling providers to practice at the top of licensure, regardless of care setting," said Jim Creason, President and CEO of ThriveAP. "We are proud to continually create unmatched curriculums with the proven ability to increase RVUs, retention and overall satisfaction for advanced practice providers across the nation. We look forward to launching even more curriculums in 2023."
The Hospitalist Medicine transition to practice curriculum boasts rolling enrollment and is available now! For more information on the program visit: https://www.thriveap.com/acute-care/hospitalist-medicine
---
About ThriveAP
Founded in 2012, ThriveAP has become an important education resource for Advanced Practice Providers and their employers throughout the nation. ThriveAP's programs help facilitate the growing impact of APPs in the delivery of healthcare and is recognized for its quality, relevance, and convenience. The ThriveAP program blends interactive educational experiences, community, and support to improve provider productivity, proficiency, and confidence through real-world skill development. Learn more, ThriveAP.com
Your email address will not be published. Required fields are marked *
STAY UP TO DATE WITH NEWS & BEST PRACTICES
Form