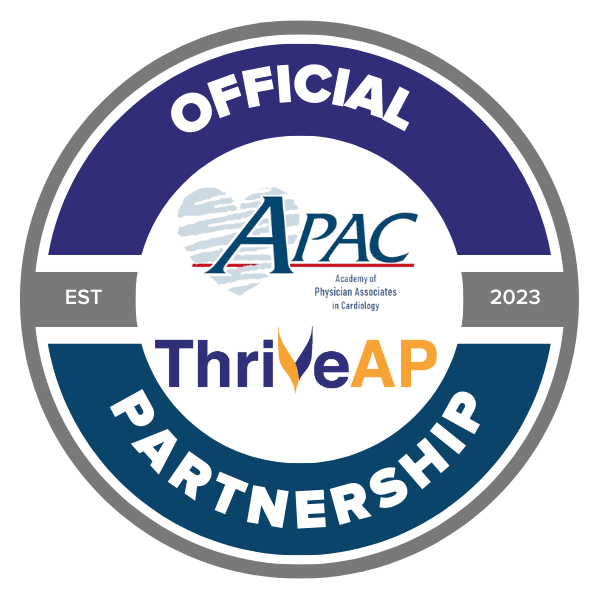 ---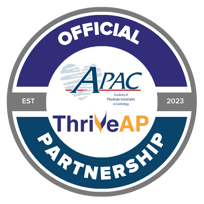 ThriveAP, the leading transition to practice education solution for advanced practice providers (APPs) and the Academy of Physician Associates in Cardiology (APAC), the primary resource and advocate for cardiology Physician Associates (PAs), announce partnership to support post-graduate transition to practice for APPs practicing in cardiology settings and transferring within cardiology subspecialties.
The direct connection between APAC and ThriveAP's missions will empower APPs across the nation as they transition into cardiology practice through education, community, and professional development. Making this partnership pivotal in advancing and advocating for APPs in cardiology.
Cardiology is the fastest growing ambulatory surgical center specialty, according to Avanza's "2022 Key ASC Benchmarks and Industry Figures" report, with cardiology being the largest internal medicine subspecialty for PAs (AAPA). Given nurse practitioners (NPs) and PAs are the fastest growing professions in healthcare, according to the Bureau of Labor Statistics, with projected growth for NPs representing almost 50% and PAs at 31% over the next nine years, supporting APPs as they transition into cardiology practice will prove beneficial to the providers, their employers, and patients alike.
Effective June 2023, APAC has endorsed the ThriveAP Cardiology transition to practice curriculum, ensuring relevancy and alignment of educational programming. Additionally, participants in the ThriveAP Cardiology Program will gain access to APAC's membership benefits including educational opportunities, community involvement, and political representation and advocacy.
This collaborative partnership equips APPs with the necessary skills and knowledge to excel in the delivery of cardiology care through the high-quality and comprehensive transition to practice education from ThriveAP. While additionally, benefiting from the expertise, connection, and advocacy of APAC. Together these two leaders in their respective areas provide unmatched community and professional development opportunities for APPs in cardiology.
"It is my distinct pleasure to announce the partnership with, and endorsement by, the Academy of Physician Associates in Cardiology. APAC is known for their strong support and advocacy for PAs in cardiology. Together, given both organization's dedication to creating opportunities for career enhancement and the current marketplace challenges, paired with the increased scope of APPs in complex care delivery, we know the potential to make a meaningful impact is immense," stated Jim Creason, President, and CEO at ThriveAP.
Laura Ross PA-C, APAC President, continued, "Our partnership with ThriveAP highlights mutual commitment to enhancing cardiology care through unparalleled transition to practice support and education. APPs that benefit from this partnership will be better prepared to respond to industry and patient needs by providing a higher-quality of care."
For more information on the ThriveAP Cardiology programs visit: https://www.thriveap.com/acute-care/cardiology
For more information on APAC visit: https://www.cardiologypa.org/
For more information on the partnership visit: https://www.thriveap.com/thriveap-apac-partnership
---
About ThriveAP
Founded in 2012, ThriveAP has become an important education resource for Advanced Practice Providers and their employers throughout the nation. ThriveAP's programs help facilitate the growing impact of APPs in the delivery of healthcare and is recognized for its quality, relevance, and convenience. The ThriveAP curriculums blend interactive educational experiences, community, and support to improve provider productivity, proficiency, and confidence through real-world skill development. Learn more, ThriveAP.com
About APAC
The Academy of Physician Associates (APAC) is a professional organization for Physician Associates who practice in Cardiology. Since recognition as a Specialty Organization of the American Academy of Physician Associates (AAPA) in 2003, APAC has made considerable progress toward our goal of becoming the primary resource and advocate for all cardiology PAs. APAC collaborates with the Academy and actively participates in the House of Delegates at the AAPA annual meeting to assure representation of Cardiology PAs. APAC also works closely with the American College of Cardiology (ACC) and other national organizations to promote and advocate for increased utilization of PAs to provide high-quality, cost-effective care to patients with cardiovascular disease. Learn more, https://www.cardiologypa.org/
Your email address will not be published. Required fields are marked *
STAY UP TO DATE WITH NEWS & BEST PRACTICES
Form