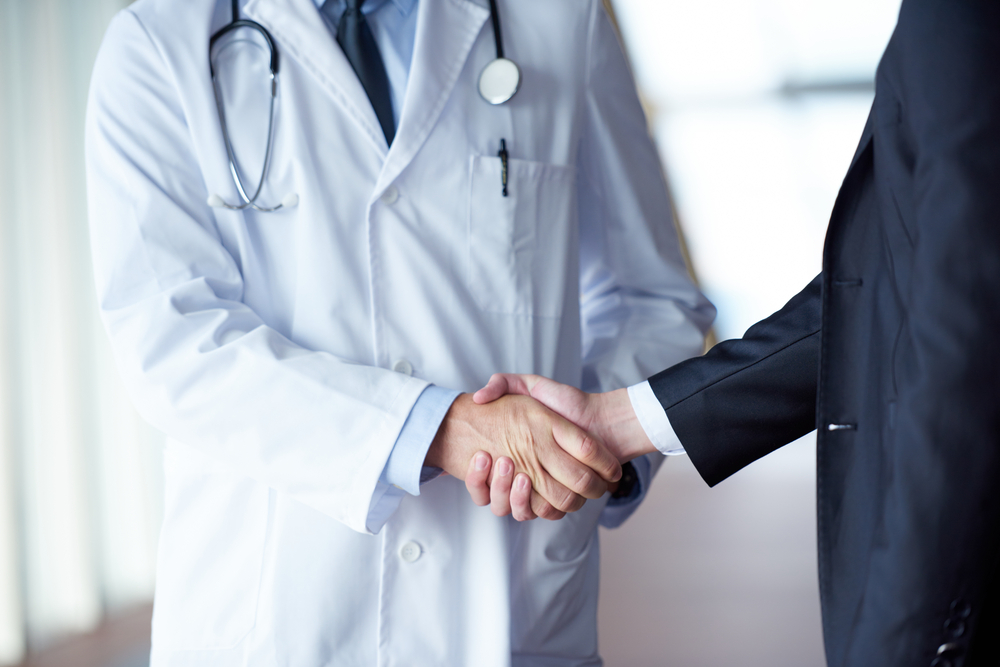 ---
The scope of Nurse Practitioner (NP) and Physician Associate (PA) practice has been redefined during recent years. The physician shortage has created a burden on many systems and advanced practice providers (APPs) have answered the call by employing their exceptional credentials and training to improve the patient experience. NPs and PAs are essential to improving patient access to reliable, high-quality care.
Facilities across the nation are looking to increase (and retain) their APP talent, and there is no shortage of NPs and PAs. U.S. News & World Report ranked NP and PA in the number one and two spot, respectively, on the 2023 100 best healthcare jobs. The Bureau of Labor Statistics projects 45.7% employment growth for nurse practitioners between 2021 and 2031. In that period, an estimated 112,700 jobs should open. When you add physician assistants/ associates into this projection, the estimate is more than 150,000 jobs. This massive growth puts APPs in the driver seat when it comes to hiring, leaving many employers wondering how to recruit and attract the best APP talent.
Why Hire a Nurse Practitioner or Physician Assistant/Associate?
Nurse Practitioners and Physician Associates are board-certified and educated at a graduate-level. Their training has prepared them to provide a comprehensive and effective approach to a wide range of patient scenarios in primary care, acute care, and specialty services - even with a continuously expanding scope of practice. APPs exhibit high clinical competency and knowledgeable, patient-centered practice.
Health delivery systems, clinics, FQHCs, and hospitals that employ APPs position themselves to reap numerous, valuable benefits, including:
Increased Patients Seen: Creating greater opportunity for collaborative medical care, in turn creates greater access to care for patients. Further, NPs and PAs are licensed to treat many patient encounters autonomously - improving potential for higher volumes of patients to seek care.
Profit Growth: Increased patient access enables organizations to treat more patient cases, which in turn results in higher revenue.

Higher Satisfaction: Care provided is safe, effective, patient centered, efficient, equitable and evidence based. (Source: American Association of Nurse Practitioners) This comprehensive approach is well received by patients and demonstrates excellent outcomes.

---
You May Also Like: How to Recruit APP Talent (Watch Now)
---
Nurse Practitioner & Physician Assistant/Associate Recruitment Tips
While it's becoming a widely accepted necessity, and best practice, to increase your APP staff, most organizations are plagued with high turnover rates. In fact, one in nine NPs and PAs turnover yearly, based on an 11% national turnover rate benchmark. (SullivanCotter 2022) That one in nine attrition rate eats into revenue quickly, resulting in a $250,000 annual revenue loss per clinician. (Morgan et al.,2022)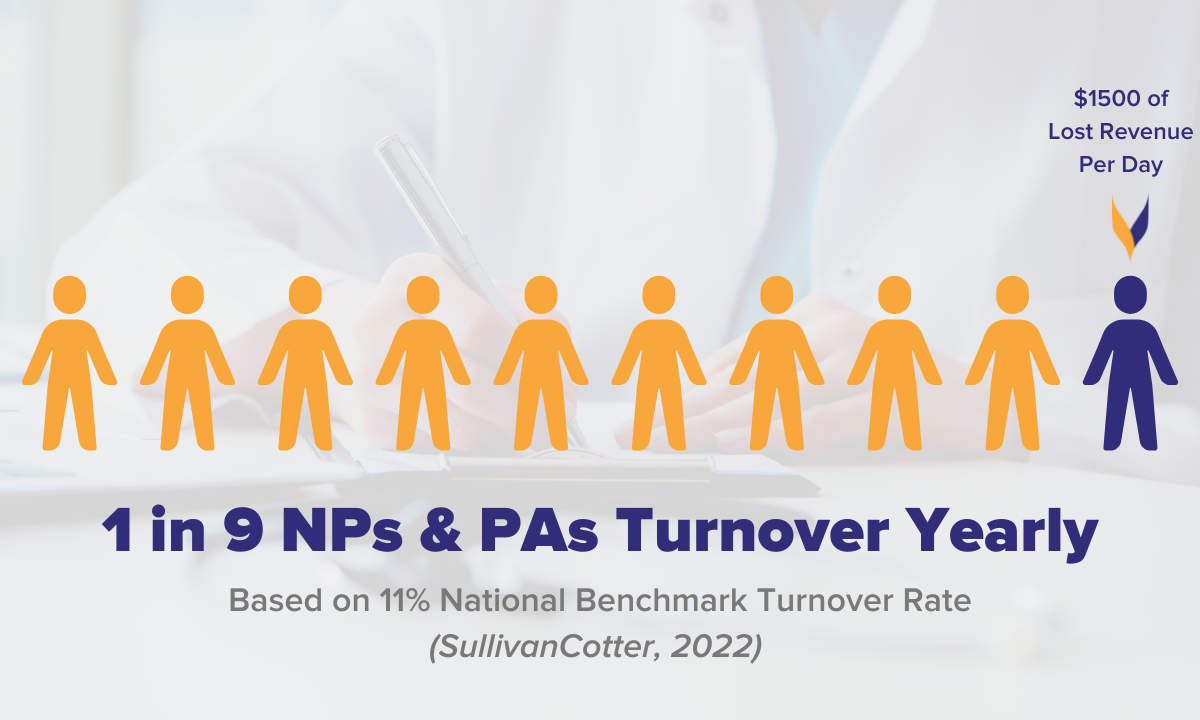 ---
You May Also Like: The True Cost of Attrition: The Financial & Non-Financial Burdens

---
Recruiting can seem difficult when there is an abundance of talent. Selecting the right APP talent specifically for your organization is integral to success. Here are a few tips for attracting talent that will retain:
Offer Competitive Pay
This seems obvious but in the current marketplace it can be hard to determine the current salary range as there are many factors that impact PA and NP salary, for instance:
Experience
Practice Setting
Specialty
Geographics
For example, ThriveAP is located in Tennessee and according to NursingProcess.Org, Tennessee NPs earn the lowest salaries of nurse practitioners in the U.S. except for Alabama, with an average $95,120 per year. It is important to note that this average varies even further based on regions within Tennessee. Do you know if your offering is in the average salary range for your location? High range? Or possibly below the median?
There are tools that can help you find out! Salary.com is one of many tools that can help you conduct your research. You can also leverage resources that provide credible nation-wide statistics like the U.S. News & World Report. Their 2023 Best Health Care Jobs report cites the median NP salary as $120,680 and the median PA salary as $121,530. Make sure you do your due diligence to find the right salary to create a compelling and competitive opportunity.
Provide Valuable Benefits
In addition to salary, benefits make a large impact and sometimes can combat lower salary ranges, especially for employers unable to compete at the same scale/level as larger systems. For example, 1 in 4 working parents experience burnout due to the stress of balancing childcare and work. (Maven Clinic and Great Place to Work, 2022) Considering healthcare workers are significantly susceptible to experiencing burnout, easing the burden of childcare through a funded solution, onsite solution, or access to consulting services, could be an attractive benefit and recruitment tool.
Attracting the right talent is about supporting talent. Some popular and highly sought benefits include:
Corporate Sponsored Childcare

PTO

Retirement Plans
Parental Leave
Continuing Education Allowance

Signing Bonuses

Relocation Packages
Professional Journal Memberships
Formalize Onboarding & Transition to Practice
New hires want to know when they enter your organization they will be supported and set up for success. You can make support accessible and visible by formalizing your onboarding and transition to practice process. If you are hiring or recruiting newer graduate APPs promoting these types of programs can be a huge bonus. Why?
These types of programs help clinicians integrate into the system at an accelerated ramp speed. Formal transition to practice and onboarding processes will help organizations attract the right talent, but even further, retain them. Lastly, while these programs have long been called for and proven to result in measurable benefits, most organizations still lack a formal process. By including this opportunity in your recruitment package, you are showcasing your system's forward thinking and innovative approach to care. These qualities are attractive in recruiting quality, passionate talent who desire to be at the forefront of innovative care.
---
You May Also Like: 3 Reasons to Develop a PA & NP Onboarding Program
---
Provide Continuing Education & Professional Development Opportunities
Advanced practice providers, by nature, are motivated, purpose driven, and performance-oriented workers. Employers should support their desire to grow through continuing education and professional development opportunities. Continuing education helps clinicians upskill and stay up to date on the latest procedures or treatments. Similarly, professional development helps clinicians provide quality care to patients, become more proficient, fosters leadership ambitions, and builds confidence.
Company sponsored professional development and CME/CE illustrates a clear investment and commitment to employees while empowering them to further develop competencies. APP continuing education and professional development opportunities showcase the organization's dedication to helping clinicians advance their career and can continually reinvigorate clinicians' deep-rooted passion for patient care. APPs are motivated, ambitious workers who want to continue to refine skills and grow within their organization. Your commitment to their continued career growth and proficiency will boost your organization's profile as an employer of choice.
APP Leadership Programs
Advanced Practice Provider leadership roles have become increasingly prevalent. As an APP is deciding what employment opportunity best fits their personal goals and needs, their career path, and future, will be an important factor. They will be looking for organizations that not only invest in their clinical acumen but also in their career trajectory. NPs and PAs are seeking out organizations that have defined paths for their future and demonstrate an innovative approach to APP support. Leadership programs help clinicians understand they play a crucial role in the overall system strategy, and are viewed as valued members of the team. These programs also assure NPs and PAs that they have a seat at the table where their practice is respected, their voice is heard, and career advancement is an opportunity. An APP leadership program will continue to cultivate your best talent and turn them into top tier performers, influencing productivity and retention.
---
Looking for insights on how to create an APP leadership strategy and/or program at your organization watch our webinar featuring Amy L. Haller, MBA, MPAS, PA-C, Director for the UPMC Center for Advanced Practice Education and the Clinical Project Director for the UPMC Office of Advanced Practice Providers.
---
Jumpstart Your Pipeline
Begin building your talent pipeline by generating awareness within the upcoming talent pool. You can do this by:
Creating relationships/partnerships with local universities and NP/PA programs
Encouraging current employees to become preceptors
Systems can empower their APP team to connect with their Alma Mater to develop meaningful relationships through speaking opportunities, educational discussions or other avenues. This outreach to the future generation will help make your system's name become synonymous with service, and be recognized by the upcoming talent as a quality employer.
Improve Your Physician Assistant/ Associate & Nurse Practitioner Recruiting with the Benefit of ThriveAP!
It is a highly competitive market, taking an unbiased look at your recruitment package can help employers attract high potential NP and PA candidates. Healthcare systems that continue to evolve with the marketplace and place an emphasis on strategic initiatives, like reinvigorating their compensation packages will reap measurable benefits (and business continuity).
ThriveAP is often leveraged as a powerful resource in attracting (and retaining) the right talent, for the right organizations, at the right time. Adding a formal transition to practice curriculum to your benefits package is compelling to NPs and PAs – especially new graduate clinicians. Formal transition to practice education will add resiliency to your talent acquisition strategy by attracting motivated APPs that want to thrive in their career. ThriveAP's rolling enrollment means, regardless of your hiring activity timing, you can enroll your new hires into the specialty education that will make the largest impact on their development. Let's discuss our primary care or acute care programs and help your organization become an employer of choice for new recruits!
Your email address will not be published. Required fields are marked *
STAY UP TO DATE WITH NEWS & BEST PRACTICES
Form