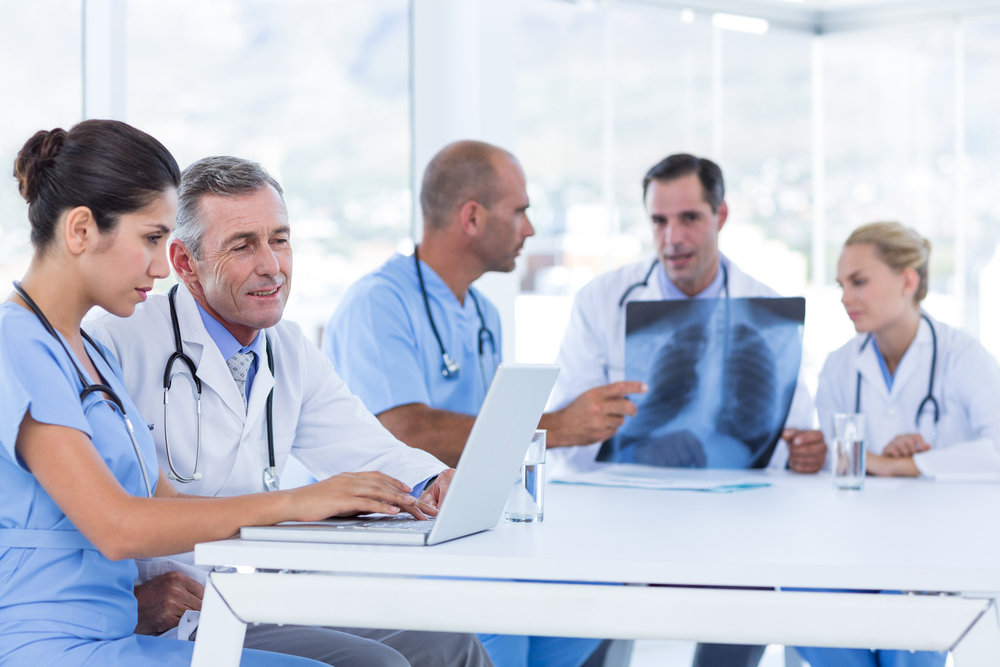 ---
If a member of your advanced practice provider (APP) team leaves the practice it can put you, and their peers, in a tough scenario. Not only does Physician Assistant (PA) & Nurse Practitioner (NP) turnover result in costly financial losses, it can add to mounting stress on the rest of the team. Given that the risk of burnout tends to be the highest among newer graduates, in the 2-5 year range, health care employers could be even more at risk for financial and profitability loss than you might imagine.
What is the Financial Burden of APP Turnover?
APP turnover negatively impacts employer's financial standing in a few ways:
Vacant Positions Equate to Lost Revenue: Unfilled positions result in lost productivity and a decrease in patients seen- this is a daily revenue drain, a very expensive one. A vacant position can also overstretch your existing team, which could lead to less than optimal patient outcomes and satisfaction.
Recruiting Expenses: Hiring is not as simple today as it was in the past, it is a highly competitive field. Finding the right personality fit and skillset for your organization can require a mixture of advertising and marketing. Hiring also requires time out of clinic to Interview potential candidates, further decreasing productivity. Additionally, recruitment requires Human Resources' time.
Hiring a New Provider: Onboarding a new provider into your practice is not small feat, it requires a large time investment. This time investment equates to a further compounded decrease in productivity while you train the new APP. It can take up to a year for a new employee to reach the same productivity levels as their predecessor, especially in roles that require specialized training, oft referred to as the 'productivity drag'.(hppy)
Additional expenses you could incur during the hiring process are potential relocation costs, or a sign-on bonus - to name a costly few.
What Is the True Cost of APP Turnover?
Turnover, as we outlined, results in obvious financial burdens but it is easy to ignore the associated underlying costs. "Employee resignations often have an immediate effect on the employees who remain, particularly in terms of the workload they're expected to shoulder. Sometimes, high turnover rates serve as a red flag that something is seriously wrong with the culture or management of a company," according to The Effect of Employee Resignations on Productivity. Underlying costs that can represent revenue strain:
Lack of Knowledge Continuity: With that PA or NP's departure, they are also taking their knowledge and skillset. Knowledge and experience loss can represent a sustainability threat for practices, especially if you are already running lean.
Workload Burden on Peers: As the remaining providers work to maintain pace and patient volumes they can quickly work themselves into burnout. This increased workload can turn a star employee into a resentful employee. Work-life balance is critical in any career but it is easy to understand, given the gravity of a health care workers' daily responsibilities, why the need is exponentially greater.
Diminished Morale: Once an employee is experiencing feelings of being overwhelmed, stressed, and emotionally drained, it is not easy to course correct. Burnout leads to exhaustion, frustration, and negativity. All of these symptoms can easily infect the rest of the practice diminishing morale and culture.
Future Hiring Issues: It is often said that employees don't quit their job, they quit their boss. If your PA or NP resigned due to morale or culture issues it can create red flags and reputation issues for the practice. In an exceedingly competitive hiring market this could cause serious profitability concerns.
4 Ways a Transition to Practice Program Supports PA & NP Retention
The good news is there are ways to combat APP turnover issues that actually empower PA & NP retention. Operationalizing a transition to practice program at your facility can make a huge impact. Here are four ways a transition to practice program supports APP retention (download the infographic):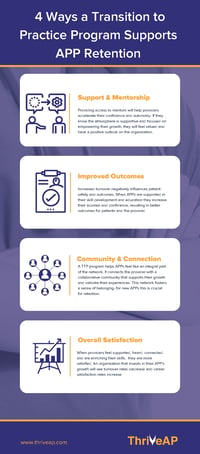 Support & Mentorship: Providing access to mentors will help providers accelerate their confidence and autonomy. If they know the atmosphere is supportive and focused on empowering their growth, they will feel valued and have a positive outlook on the organization making them less likely to leave.
Improved Outcomes: Increased turnover negatively influences patient safety and outcomes. When APPs are supported in their skill development and education they increase their acumen and confidence, resulting in better outcomes for patients and the provider.
Community & Connection: A TTP program helps APPs feel like an integral part of the network. It connects the provider with a collaborative community that supports their growth and validates their experiences. This network fosters a sense of belonging- for APPs in the high-risk zone (2-5 years post-grad) this is crucial for retention.
Overall Satisfaction: When providers feel supported, heard, connected, and are enriching their skills, they are more satisfied. An organization that invests in their APP's growth will see turnover rates decrease and career satisfaction rates increase.
A transition to practice program will fuel APP retention all while driving bottom-line growth for the organization.
Put an End to APP Turnover & Gain a Competitive Recruitment Advantage With a Transition to Practice Program
In this highly competitive hiring market, providers have different expectations entering into practice than they did in the past. "There is a lot of expectation from our APPs coming out of school, they're asking in their interviews, 'how do you transition me into practice?' It is different from when I came out of school 25 years ago. I was lucky to get into a practice with another physician and we were figuring it out as we went. The time pressures were not the same as they are today with the amount of data that is coming at us, RAF scores, quality measures, and so on. It is different, so facilitating that support Is critical," said Elizabeth Helms, APRN, FNP-BC, Director Advanced Practice Leadership Council at Ascension Primary Care Union City Ascension St. Vincent.
Implementing a transition to practice program can help you attract the right talent, and most Importantly, retain the right talent - all while helping you avoid financial pitfalls and profitability issues. Learn how to operationalize a transition to practice program at your organization to get started!
Your email address will not be published. Required fields are marked *
STAY UP TO DATE WITH NEWS & BEST PRACTICES
Form