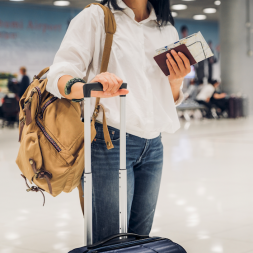 ---
Participating in a medical mission trip as a nurse practitioner or physician assistant is much more than an opportunity to boost your resume. Done right, medical mission trips play a key role in strengthening societies and bridging the gaps in socioeconomic divides. Whether it's with a big name organization or aboard a floating hospital ship, medical volunteerism is an excellent way to make a difference in the lives of the individuals it serves, bringing healthcare to impoverished nations who wouldn't otherwise receive medical care.
If you've been thinking of taking your clinical skills across the globe, consider a trip with one of these six medical mission organizations for healthcare providers.
1. Doctors Without Borders
Present in over 60 countries worldwide, every year Doctors Without Borders deploys around 3,000 field staff to provide lifesaving medical assistance to individuals in crisis, specifically those in regions of conflict and post-conflict. Selection is extremely competitive for nurses applying to Doctors without Borders, especially for those who do not speak French or Arabic, as a significant number of missions are to countries wherein these are the primary languages spoken. NPs are required to have quite a few qualifications including at least three years of professional experience and one year of management or direct supervision experience; and they must be able to serve abroad for nine to twelve months. Though a long commitment is required, the organization does provide a compensation and benefits package including a starting salary of $2,039 per month, paid vacation, paid leave, and a 401K retirement plan.
2. Mercy Ships
As the world's largest civilian hospital ship, Mercy Ships has been delivering free state-of-the-art care to those in desperate need of life saving surgeries across the globe; performing more than 82,000 surgeries onboard since 1978. Currently, the Africa Mercy is the only Mercy Ship in service but it represents a greater capacity than all of its prior ships combined, providing care directly to people in need who are within 100 miles of the African Coast. Not only does Mercy Ships recruit medical providers for multiple positions on board, but they also seek non-medical volunteers to be a part of its crew. Commitment requirements range from two weeks to two years depending on the position; however some volunteers may qualify for a family cabin on board, making this a great opportunity for NPs interested in making their mission a family affair!
3. International Medical Corps
Established in 1984 by volunteer doctors and nurses, International Medical Corps offers many exciting opportunities for medical providers in both the United States and abroad in over twenty other countries. The organization's emergency response teams focus on providing life-saving emergency services, primary health care, public health and emergency nutrition in disaster-affected populations. Although the time commitment is fairly short for medical providers, ranging from two to eight weeks, volunteers must be willing to deploy to areas in need within a 72 hours notice. Most volunteers are required to pay for their own flights, however, the organization provides a daily food allowance, covers the cost of shared housing and pays for emergency medical evacuation insurance. The organization also has a graduate internship program that is open to trained professionals in various specialties, of whom may be eligible for a monthly stipend.
4. World Medical Mission
A part of the Samaritan's Purse, the World Medical Mission provides Christian doctors, nurses, medical equipment and other aid to people in Africa, Asia, Oceania, Latin America and the Middle East. The organization not only provides free healthcare for those with major health issues such as heart defects and AIDs in mission hospitals and clinics, but also administers hope for healing based on the principles of the Christian faith. Currently the organization offers two to four week trips, though spots are limited. Medical providers are only required to have at least one year of clinical experience. Because the World Medical Mission is a faith-based organization, all applicants are expected to agree and sign a statement of faith and practice.
5. Project Hope
Since 1958, Project HOPE has been saving lives around the globe with a focus on major health challenges such as disasters and health crises, infectious and chronic diseases, and providing maternal, neonatal and health care to children. The organization has a wide range of opportunities for nurse practitioners; from teaching at the School of Nursing in China to promoting health and wellness for women and children in the Dominican Republic. In 2017, 9 out of 10 volunteers with Project HOPE highly rated their experience and would recommend volunteering with the organization to friends and colleagues.
6. International Medical Relief
Medical mission trips with IMR are short-term opportunities abroad for healthcare providers with any level of experience, during which individuals receive medical care and health education in more than 57 countries in regions where it's either limited or difficult for them to obtain. The organization strongly encourages families, friends and professional groups to join together in the experience, offering opportunities for non-medical volunteers to serve in roles that are critical to the success of the organization's clinics. All volunteers are asked to contribute $100 towards the trip of which covers the cost of transportation, lodging, food, costs associated with the clinic and other logistics.
Have you participated in a medical mission trip? How was your experience?
Your email address will not be published. Required fields are marked *
STAY UP TO DATE WITH NEWS & BEST PRACTICES
Form