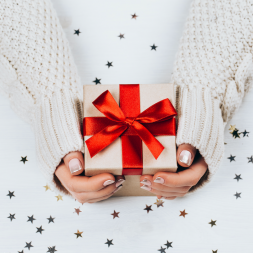 ---
Wanting to spread holiday cheer among your coworkers this Christmas is understandable; after all, you do spend quite a bit of time together and you've become a bit like a little dysfunctional family. As you near the end of your holiday shopping list, you may find yourself questioning whether or not you should buy something for your closest coworkers.
Navigating Christmas presents for bosses, coworkers, and subordinates can be tricky. While it is certainly better to give than receive, even the most seemingly harmless gesture of giving a $5 Starbucks gift card to the receptionist at your clinic has the potential to cause unnecessary issues amongst your fellow coworkers. So before making your list and checking it twice, follow these eight guidelines for giving gifts to coworkers.
1. Find out if gift exchanges are allowed in your workplace
Save yourself from a potentially embarrassing and punishable situation by first finding out if employees are allowed to exchange gifts with one another, as some offices do have policies that prohibit such. Even if it's allowed, there may still be stipulations on which employees can accept and exchange with one another and what types of items can be gifted. For example, executive leadership may be prohibited from receiving gifts from employees for ethical reasons. To find out what the gift giving norms are, ask around, consult with HR or refer to your employee handbook.
2. Be inclusive
If you're in a leadership role or are part of a team, think twice before giving a gift to one person and not another (unless it's a Secret Santa exchange). Not only does excluding the others run the risk of hurt feelings, but it could really tarnish your role as a superior and cause you to lose respect among those you lead.
Rather than playing favorites, give a small gift of equal value to each member of your team as a token of your appreciation. To make it more affordable, ask the fellow providers in your practice if they'd like to collectively contribute a certain dollar amount to go towards funding gifts for the staff. You could also opt to buy lunch for the employees or members of your team, which is a great way to show your appreciation as it's both professional and inclusive.
3. Gifting to colleagues who are close friends
You may be in a situation where buying gifts for all of your coworkers is not feasible but you want to get a present for a colleague who is your close friend outside of the workplace. Depending on the nature of both your professional and personal relationship with one another (i.e., you're not their boss and vice versa), it's perfectly acceptable to only buy a gift for this one specific person and not the others, but save the exchange for a time and place outside the practice to avoid causing other coworkers to feel left out.
4. Don't spend too much
Giving extravagant gifts to your associates is never a good idea; not only does it reflect poorly on you as trying to outshine your other colleagues, but it could make the recipients feel very uncomfortable. If your clinic has decided to participate in an organized gift exchange, be sure to stick to the agreed-upon price limit. Otherwise, $10 – $15 is an acceptable amount to spend each person (like these gift options for the wine-loving nurse practitioner).
5. Ask yourself what message the gift conveys
When choosing a gift, ask yourself what message the item and the motive behind it conveys. Does it show that you cared enough to give a gift out of appreciation and respect for the coworker? Is the gift appropriate to be given in a workplace setting? Is the exchange ethical or could it be misconstrued?
6. Choose professional but personalized items
Gifting items that can be used in a professional capacity such as desk accessories, water bottles, lunch bags or gift baskets of gourmet foods are always a safe bet and are widely appreciated (or try these 7 stocking stuffer ideas for the NPs in your life). Even homemade cookies or baked goods are a good route to go with. It's also fine to give more personalized items for each person with whom you work with, so long as you adhere to equal values for each and are not playing favorites. Giving a gift card or certificate is acceptable as well, but gifting cash is not appropriate unless it's being given by the company as a bonus to employees.
7. Be wary of giving to the boss
Generally, employers give a gift to employees as a token of their appreciation but not vice versa, so don't feel obligated to buy something for your boss as it's not expected nor is it customary. If you do feel compelled to do so, be wary of what you give and how much it costs. Bear in mind that bosses are people too, so it's important that you adhere to the aforementioned guidelines to avoid favoritism issues with the other NPs and providers. In the case of giving a gift to the boss, the best option is to coordinate a group gift wherein the staff pitches in on a gift together for the boss.
8. Never give a present to a patient
While you might receive a present from a patient or their family members, giving a gift to a patient is unethical and could potentially blur the lines between the patient/provider relationship. Simply wish your patients a Merry Christmas, Happy Holidays or Happy New Year and thank them for their thoughtfulness if they give you a present. If your facility prohibits you from accepting gifts from patients, the best way to handle the situation is to politely decline by stating that you're not allowed to accept gifts, if the exchange is done in person. If a gift is sent to your office from a patient, you can write a thank you note and graciously explain that you're not allowed to accept it. Rather than embarrass them by returning the gift directly to them, let them know you'll be donating the gift to a local charity.
Remember, there is no rule that says you have to buy gifts for your coworkers this time of year; so if you either can't afford it, don't celebrate the holidays, or simply don't feel comfortable with it, don't sweat it. Ultimately the best give you can give is to simply be the best provider and coworker you can be, day in and day out, no matter the time of year.
Your email address will not be published. Required fields are marked *
STAY UP TO DATE WITH NEWS & BEST PRACTICES
Form