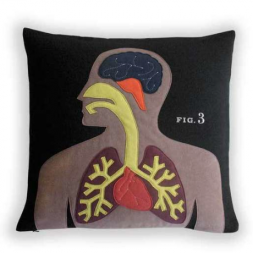 ---
Do you ever get distracted and find yourself completely off track? Well, that's what happened with this post. No, I didn't wake up on this rainy Thursday morning thinking "Hmmm, anatomical accent pillows are all the rage these days", although apparently they are. Somehow, between an intent to write on a super serious topic and taking a Pinterest break to search decor ideas for my ever in progress 1920's home, I stumbled upon a completely new subject de jour. So, nurses, nurse practitioners and physician assistants, meet medical home decor.
I am constantly decorating and redecorating my home. Just ask my husband. It seems that I can never quite get everything right. One look is a bit too modern, another just not me. Fortunately, some creative, crafty types with medical know-how have designed the perfect home accessories for medical professionals- anatomical accent pillows. Just right for your clinic break room and perhaps even your living room couch, anatomical art makes the ideal addition to any medical professional's decorating scheme. Here are my favorite medically themed throw pillows.
Hand Fingers Muscles Anatomy Throw Pillow
Master the muscles of the hand, or the art of taking a peaceful nap, with this dextrous creation.
Fingerprint Pillow
Forget zebra, fingerprint is definitely the next big pattern. Whorls and arches give just the right hint of anatomical edge to your decorating approach.
Eye Chart Pillow
Can't you see this chic creation fitting in perfectly on your living room sofa?
Plush Organs
No, these anatomically correct throw pillows won't make the cut when it comes to adorning your EZ chair, but they are a fun accessory for the specialized NP or PA.
Secret Thoughts Heart Pillow
The perfect blend of neutrals, the Secret Thoughts Heart Pillow can pass as both trendy and themed.
Science Project Pillow
This throw pillow may be a bit more textbook than many medical providers can handle in their own homes but would make an excellent addition to any waiting or exam room.
Vintage Heart Anatomy Throw Pillow
Bold and bright with understated detail, this cushioned creation is perfect for the NP or PA with a cardiology bent.
Da Vinci Vitruvian Man Pillow
Ahh, the Vitruvian Man. This pillow features the staple of medical art. Perhaps a graduation gift for your favorite NP or PA student?
Fingerprints Throw Pillow
Multiple fingerprints give this pillow a mysterious, yet medical edge making it an impeccable decor option for providers.
Would you ever consider including anatomical pieces in you home decorating scheme?
Your email address will not be published. Required fields are marked *
STAY UP TO DATE WITH NEWS & BEST PRACTICES
Form