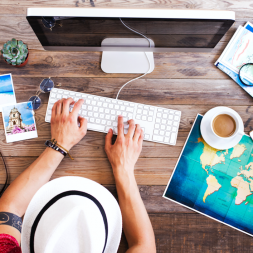 ---
Baby, it's cold outside! This time of year, not only do I prepare for the holidays, I also start feeling the need to get a winter getaway on the books. Cold weather creeps in making a beach vacay sound increasingly appealing. A constant stream of relatives visiting makes me crave the peace of a getaway. Not to mention, I've got to get something penciled in on the calendar to look forward to in 2018, right?!
If you too could use a vacation for whatever reason, attending a nurse practitioner continuing education conference is the perfect way to do so. Not only does this mean your employer's funding part of your trip, it's a chance to improve your professional skill set all while having a little adventure. Check out these can't miss winter 2018 continuing education options for nurse practitioners.
1. Topics in Family Medicine – San Juan, Puerto Rico
Get continuing education credits while you cruise with this 7-night island getaway. From orthopedics to dermatology, you'll cover a variety of primary care topics all with the beach breeze in your hair as you sail to the Virgin Islands, St. Lucia, Antigua and more.
2. Infectious Disease Medicine for Primary Care – Key West, FL
If islands are totally up your alley but you can't quite get away for a cruising adventure, consider this February 22-25, 2018 conference in Key West. Sessions like "Animal Bites and Related Syndromes" and "Central Nervous System Infections" are hosted during morning hours leaving plenty of time in the afternoon and evening for exploration.
3. What's Up With Primary Care Emergencies?! – Nashville, TN
We're super excited here at ThriveAP HQ about our first-ever continuing education conference. Join us March 8-9, 2018 in Nashville, TN at the Hilton Nashville Downtown. We'll discuss red flags in primary care from rheumatology to women's health, cardiology, pharmacology and more! The conference is the first in our What's Up?! series and will be packed with practical information. Not to mention, attendees will have plenty of time to explore Nashville and enjoy the live music scene. We hope to meet you in March!
4. Medical Dental Legal Update – Park City, UT
This conference is quite the catchall. From pharmacology and medical malpractice to immunization updates and interpretation of liver function tests, NPs of all interests will have their pick of topics here. When you aren't amping up your clinical education, take advantage of Park City's pristine slopes. Or, just grab a cup of hot cocoa and enjoy the view.
5. Cardiology for Primary Care – Disneyland, CA
If you're looking to take the fam on your continuing education adventure, there's no better place to do so than Disney. Explore the parks and ride the rides while staying at a conference venue conveniently located to Disney's attractions. Meanwhile, brush up on your cardiology know-how with sessions like "The Epidemic of Atrial Fibrillation" and "Treatment of the Statin Intolerant Patient".
Where will your 2018 nurse practitioner continuing education take you?
You Might Also Like: Ask These 6 Questions before Agreeing to Take Call
Your email address will not be published. Required fields are marked *
STAY UP TO DATE WITH NEWS & BEST PRACTICES
Form