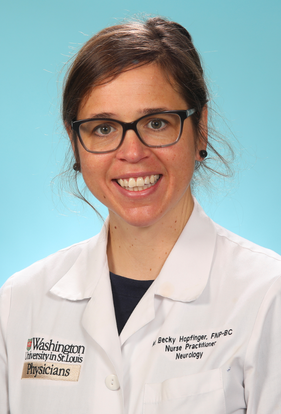 Becky Hopfinger, FNP-C, MBA
Becky Hopfinger, FNP-C, has been a nurse practitioner since 2010. She started out her NP career in Denver with a Neurosurgery team. With this practice, she worked within the inpatient, outpatient, ED and the OR. Becky worked with this group for nearly 5 years before moving back to St. Louis to be closer to family. She currently works for Washington University in St. Louis at Barnes Jewish Hospital. This is a Level 1 Trauma Center, and Comprehensive Stroke Center, with 1300 inpatient beds. Her Neurology team is consistently in the top 15 in the country. They offer a wide variety of specialties and see a diverse patient population. She also finished a Masters in Business Administration with a concentration in Healthcare Administration in March of 2020.
When not at work, she enjoys family time. Becky has four girls. She enjoys most outdoor activities, especially running.