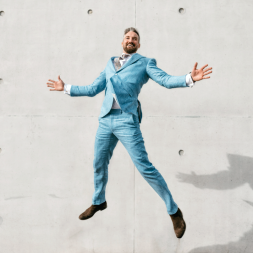 ---
Yes, it's that time of year again. It's time for "Top 10" and "Best Of" lists memorializing the past year. Here at ThriveAP, we're not ones to miss out on the trend. Yesterday we looked at the top salary posts for nurse practitioners in 2017. Today, we are featuring information for NP new grads. Kicking off your nurse practitioner career isn't easy but these favorite posts from 2017 should help.
1. Unexpected Challenges of Working as a New Grad NP
As nurse practitioners, we understand that our clinical skills and knowledge must continue to grow once we begin practicing. We expect to have a number of questions and rightly have some anxiety about treating patients solo, without the watchful eye of a preceptor. But, what other challenges can you expect to encounter if you're new to your practice? Continue reading...
2. An Inside Look at Nurse Practitioner Residency Life
Last month, the inaugural ThriveAP+ class jumped in to their learning adventure with a kick off conference at ThriveAP headquarters here in Nashville, Tennessee. What does the ThriveAP+ kickoff experience look like? Continue reading…
3. The Monthly Cost of Your Nurse Practitioner Student Loans
If you're thinking through the logistics of furthering your nursing education, cost is, of course, a significant consideration. Can you afford to become a nurse practitioner? What will your lifestyle look like if you need to take out a substantial amount in student loans? Yesterday I looked at the actual cost of the NP education taking student loan interest into account. Today, let's look at this number in a manner more conducive to financial planning, your anticipated monthly student loan payment. Continue reading…
4. 9 Hidden Costs of Nurse Practitioner School Graduation
If you are graduating from your nurse practitioner program this spring or summer, congratulations! You made it! Launching your NP career is an exciting time, but also one filled with anxiety-provoking logistics. Where will you work? How much will you be paid? How do you balance interviewing at multiple facilities? While most nurse practitioners are familiar with the steps of the licensing and job search process, many neglect to consider how much the ordeal will cost. And, yes, it is pricey. Continue reading…
5. What's the Average Starting Salary for Nurse Practitioners?
With very little to no nurse practitioner experience, it's natural to assume you won't earn a top salary as a new grad. The same principle holds true for most professions. But, just how much can you expect to earn once you complete your nurse practitioner program? Continue reading…
6. Don't Miss These Important Deadlines for NHSC Loan Repayment
At the beginning of each year, the NHSC opens the application cycle up for interested primary care providers to apply for the program. Unfortunately, with such a short open application period that lasts only few months and very specific requirements that must be met for consideration, many providers end up missing out on the chance to submit their applications in time and thus have to wait a full calendar year for another opportunity to apply. Don't let yourself fall into this category! Continue reading…
7. Decoding Nurse Practitioner Specialty Grey Areas
In most cases, if it seems your career aspirations fall into a nurse practitioner specialty gray area, there is not one 'right' answer when it comes to specialty selection. If you're having difficulty in the nurse practitioner specialty selection process, here's a little insight into specialties that commonly cause confusion for NPs to-be. Continue reading…
8. How to Bounce Back from Failing Your NP Certification Exam
If you're a recent or soon-to-be nurse practitioner grad, your certification exam is likely front and center in your mind. Not only are you wrapping up papers, projects and cramming for finals, you're also perusing review books, flashcards and completing hundreds of practice exam questions. But, what happens when all your hard work falls flat? Continue reading…
9. How Much Will it Cost You to Add a DNP Degree?
Are you ready to jump on the DNP bandwagon? Since the introduction of the doctorate level degree for nurse practitioners, more and more NPs are choosing to take their education to the highest level. This leaves many of us who became nurse practitioners in the days when only a master's degree was offered feeling the pull to further our education as well. One of the first questions MSN-prepared NPs naturally ask is "How much will a post-master's DNP degree cost?". Continue reading…
Your email address will not be published. Required fields are marked *
STAY UP TO DATE WITH NEWS & BEST PRACTICES
Form