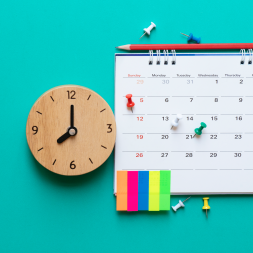 ---
With a number of program options out there, it can be difficult to get a grasp on just how to get your foot in the door for a nurse practitioner residency or fellowship. If you've decided that these post-graduate employment opportunities are the next best step to kickstart your career, how far in advance do you need to apply?
Residency and fellowship programs are competitive so applying to a few programs is generally a good idea, even if you know which one you want to attend. Having a general idea of when to start gathering application materials is helpful and will make the application process easier on your end. Based on our research of a number of nurse practitioner residency and fellowship options, here's the gist of the application timeline.
Primary Care Nurse Practitioner Residencies
There are a number of primary care clinics, typically Federally Qualified Health Centers, that offer primary care and family practice residencies. These facilities tend to have similar application processes, requirements and deadlines. Overall, the application period for most primary care residencies for NPs begins in the December-January timeframe and closes in March with the actual residency starting in September of that year. So, for example, if you would like to start your NP residency in September 2020, you would need to apply between December 2019 and March 2020.
Flexible Primary Care NP Residencies
Some primary care residency options for NPs, like our ThriveAP and ThriveAP+ programs here at ThriveAP work on a more flexible, rolling timeframe. The residency-like curriculum may be completed wherever you're already employed (ThriveAP), or you may participate by matching with one of our new grad-friendly clinics (ThriveAP+) in a more traditional arrangement. Regardless of the option that's right for you, the ThriveAP and ThriveAP+ application and enrollment processes are rolling and applicants are accepted throughout the year. Matching occurs throughout the year as clinics have openings. This process works well considering many nurse practitioner programs have varied graduation dates. You may apply to ThriveAP+ or download an information packet covering both program options here.
Specialty NP Residencies and Fellowships
Specialty residency and fellowship programs have more varied application timelines, so if you're looking at a specialty-specific program you'll need to be vigilant about these specific requirements. In general, specialty and fellowship options for NPs operate on a tighter timeline with earlier and/or shorter application windows than those for primary care. For example, in many programs applicants must apply in the November – January timeframe and plan to start the program in July if accepted. So, if you plan to start a NP fellowship in July 2020, you will likely want to apply between November 2019 and January 2020.
Keep in mind this post is meant to give a general timeline overview. Interested applicants should do their own research to verify data for programs of interest.
Are you planning to apply for a residency or fellowship this year? Check out our Ultimate Guide to Nurse Practitioner Residencies and Fellowships.
Your email address will not be published. Required fields are marked *
STAY UP TO DATE WITH NEWS & BEST PRACTICES
Form