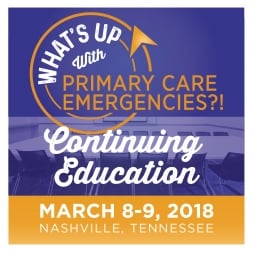 ---
Get the scoop on our newest CE offering
Can you believe it's already October? As 2017 winds down and we head toward the holiday season, we're doing some serious planning for the upcoming year here at ThriveAP. We've been working particularly hard to line up our first ever live continuing education conference for nurse practitioners and physician assistants here in our hometown of Nashville, TN. We can't wait for you to see what's in store as we welcome ThriveAP readers to Nashville to meet in person!
Throughout my nurse practitioner career, I've attended a handful of excellent continuing education conferences and count these as a fun, worthwhile way to further my NP education. Not only do CE conferences allow me a mini getaway, they provide time with colleagues, friends and, of course, diving deeper into my clinical education. If you're thinking about how to get your continuing education hours in 2018, we hope you'll consider joining us for our exciting spin on the traditional CE conference with the first topic in ThriveAP's What's Up CE series, What's Up with Primary Care Emergencies?!.
What can you expect at our inaugural continuing education conference? Aside from live music (it's the Nashville way!), a prime location near famous Broadway Street, and a chance to experience Music City, we've got a fantastic lineup of speakers in store. Amp up your clinical knowledge with the following sessions:
Here at ThriveAP HQ, we're thrilled to announce our conference agenda and know that you'll find these speakers engaging and content of each session a valuable addition to your clinical knowledge. We look forward to meeting you in Nashville this March!
Your email address will not be published. Required fields are marked *
STAY UP TO DATE WITH NEWS & BEST PRACTICES
Form