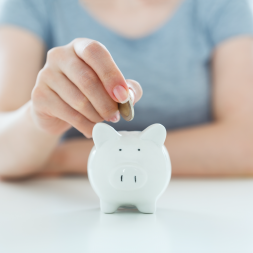 ---
If you're a nurse practitioner (or soon-to-be) interested in a residency or fellowship program, you likely realize you could be taking a bit of a salary cut compared to what you would make in a traditional employment setting. While this investment in your career and continued education can be well worth the adjusted salary, you've also got bills to pay. Just how much can you expect to earn as a nurse practitioner resident or fellow?
Capturing the complete picture of how much you will earn as a nurse practitioner resident is a bit difficult. There are relatively few such programs across the country and almost none of them publish salary information directly on their websites. In past research, I've seen amounts listed as low as the $45,000 range and as high as the $65,00 range. So, I decided to reach out to a few programs for more recent salary data. The amount listed in the header for each program indicates a 12-month estimate. Here's what I found:
Residency: Community Health Care
Location: Tacoma, WA
Salary: $64,615
Community Health Care offers a primary care residency for two NP residents per year focused on providing care in the Federally Qualified Health Center setting. The program is part of a broader training experience that includes family medicine, dental and pharmacy residents. Nurse practitioner residents at the clinic earn about $70,000 during the course of the 13-month residency program, equating to a salary of about $64,615 annually.
Residency: Santa Rosa Community Health
Location: Santa Rosa, CA
Salary: $85,592
Santa Rosa Community Health's residency offers Family Nurse Practitioners the opportunity for a supported transition into practice and is offered in conjunction with Sonoma State University. The program is 18 months long and covers internal medicine, women's health and pediatrics. Throughout the course of the program, FNP residents will be paid hourly, $41.15 per hour plus benefits. NP residents are scheduled for 40-hour work weeks for the duration of the program. Using this hourly rate and the average 2080 hour full-time annual work schedule, the resident can be expected to earn just over $85,000 per year.
Residency: Institute for Family Health
Location: New York, NY
Salary: $75,000 – $85,000
The Institute for Family Health is home to a very new primary care nurse practitioner fellowship program. Fellows train in a community healthcare model and provide care to a diverse patient population. While the exact salary for fellows in its next academic year has yet to be determined, the salary is expected to be between $75,000 and $85,000 for the one-year program.
Residency: Sanford Health
Location: Fargo, ND
Salary: 80% of typical new grad APP salary
Sanford Health's Primary Care APP Fellowship is a 12-month program open to nurse practitioners or physician assistants and aligns closely with their residency for family practice physicians. While the program does not state the exact compensation of the two fellows participating in the program each year, it does specify that this is about 80% of what an APP new grad would normally expect to earn in a similar primary care position at the facility.
Transition to Practice Curriculum: ThriveAP
Location: Locations Nationwide
Salary: $65,000 + possible loan repayment
ThriveAP offers transition to practice curriculums for nurse practitioners and physician assistants. Unlike a traditional residency which is coordinated by a specific facility, ThriveAP coordinates the curriculums and partners with facilities supportive of new graduates for the hands-on workplace experience. This unique arrangement confers a few advantages. First, newer grads have "residency-like" options at facilities nationwide opening up more opportunities in locations that may be more desirable or a better fit for the NP's personal needs. Second, since the program is "residency-like" rather than a traditional residency program, NPs and PAs participating in the program may still apply for loan repayment through the NHSC if matched at a qualifying facility. This benefit can be worth tens of thousands of dollars in the first year of practice.
Most ThriveAP facilities pay participants a $65,000 salary for the duration of the one-year program. Some facilities opt for higher salaries to adjust for cost of living in certain locations.
Overall, primary care nurse practitioner residents can expect to earn about $65,000 – $85,000 in a one-year program. Most residencies also offer benefits like health insurance and a continuing education allowance. Some offer or allow the NP to qualify for outside benefits such as loan repayment programs. Take such benefits into account as you weigh the financial implications of your decision to participate in a residency program. You must also heavily consider cost of living in the area in which you will participate in the residency. Your salary will go much farther in some cities and states compared with others.
Your email address will not be published. Required fields are marked *
STAY UP TO DATE WITH NEWS & BEST PRACTICES
Form