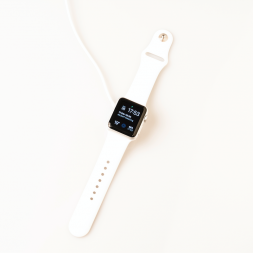 ---
I was hesitant to adopt the Apple watch craze. I doubted the utility of the device. I'm not normally a watch wearer and speculated that I would purchase the watch only to find it collecting dust on my nightstand. But, I was wrong. I received an Apple watch for Christmas this past year and am absolutely loving it, particularly as wearing the watch is helpful at work. No, this isn't a sponsored post, I've really just become a fan!
As a healthcare provider I don't always have my phone with me. I'm in and out of patient rooms and performing tasks that involve bodily fluids. So, the ability to determine if the babysitter is calling with an emergency or if an incoming call or text can wait, all with the flick of a wrist, is super helpful. Also, I'm totally obsessed with hitting my daily activity goals which is essential as a new working mom.
One perk of the Apple watch besides its functionality is the ability to switch bands. I've road-tested sporty bands and dress bands and have found that some are better than others when it comes to my job as a nurse practitioner. Here are my favorite bands for healthcare providers on the job.
While the silicone sport band is Apple's basic model, it works for patient care. The silicone strap is easy to wipe down and even sanitize with the healthcare grade wipes you likely have laying around at work. I wear the white band and despite the color have found it holds up well to stains. Better yet, you can even buy a 6-pack of silicone sport bands in a variety of colors for just $22.99 so in case of a healthcare disaster you can switch out the band without breaking the bank. Or, you can pick the one that best matches your outfit de jour…
2. Sport Loop
The sport loop band not only comes in a variety of colors, it's also super comfortable making it a good fit for healthcare providers at work. Per it's name, the band looks casual and sporty if you opt for a brighter or multicolor option but is easily dressed up in more neutral colors. While the sport loop is comfortable, it isn't as conducive to a sanitary wipe-down as the silicone band so you'll need to use more caution in messy medical moments. Get an off-brand sport loop for about $10 bucks just in case.
3. Leather
I wouldn't wear Apple's Hermes leather band that runs around the $500 price point at work given my profession, but there are a number of totally affordable leather watch bands out there. If you're going for a more professional look, a leather band dresses up your tech device and is also relatively easy to clean. It took a few wears for me to break in the leather strap, but now that it's molded to my wrist the strap is comfortable. The leather strap does allow the watch to move around on my wrist a bit more than my first two picks as it isn't quite as adjustable so you may need to remove it for some tasks.
4. Woven Nylon
I was immediately attracted to the woven nylon stripe pattern as it looked fun and classy all at the same time. The woven nylon band however turned out not to be my favorite pick as it did not stand up to the test of a busy lifestyle. The white on the striped pattern quickly became discolored in the midst of hospital shifts and gym time and I was not able to wipe away the evidence of these sloppy moments. While the woven nylon band options are still super stylish, these bands aren't ideal for work in the healthcare field and were among the less comfortable of the bands I road-tested.
5. Loop Metal
Out to lunch one afternoon, I spotted a fellow diner wearing the loop metal band and had to have one for myself. The metallic band seemed like a perfect pairing to other jewelry and made the Apple watch a bit more formal for professional events or going out at night. It turns out that the loop metal band is my least favorite watch band. The loop metal option isn't as comfortable as my prior picks. As far as wearing to work, the multiple nooks and crannies make it prone to germiness (or at least the thought of germs…). It also feels the heaviest on my writst. I save the loop metal band exclusively for non work-related activities.
What are your favorite work-worthy Apple watch bands?
You Might Also Like: Trend Watch – Denim Scrubs
Your email address will not be published. Required fields are marked *
STAY UP TO DATE WITH NEWS & BEST PRACTICES
Form