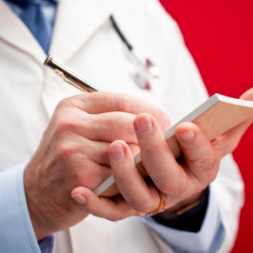 ---
Last month I chatted with Emily, a psychiatric nurse practitioner practicing in California. Emily has recently started a new job, and was excited to fill me in on the details of her position. One thing she loves about her new employer, is the integration of technology into the practice. The practice, for example, offers genetic testing to psychiatric patients, helping Emily select the most effective medication for each individual patient. Such testing falls under the realm of pharmacogenetics, the study of how an individual's genome affects his or her response to medications.
The integration of pharmacogenetics into the everyday clinical setting is a relatively new development, and one that nurse practitioners can increasingly expect to encounter in their practices. Here's a brief background of this new approach to prescribing.
What exactly is pharmacogenetics?
Pharmacogenetics is the study of genetic variations, and how they influence an individual's response to medications. This knowledge helps providers tailor drug therapy to be as effective as possible for each individual as well as decrease the likelihood of adverse side effects.
The most common genome variations that occur among individuals are called single nucleotide polymorphisms (SNPs). Response to drugs is often dictated by these variations in each individual's DNA. Pharmacogenetics primarily looks at how SNPs affect the metabolism, transport, and activity of individual drugs.
How does genetic testing relate to prescribing?
Currently, more than 100 drugs have biomarker label information that can be used in pharmacogenetic testing. Healthcare providers can use genetic tests specific to these drugs to predict their efficacy and each patient's individual response based on their genetic make up. Pharmacogenetic information, for example, may guide in selection of a medication dosage. It may also help determine which patients are at risk for adverse events when taking certain drugs, signaling the provider to select an alternate medication.
Individual response to statin therapy in patients with hyperlipidemia, for example, depends on genetics. Statins have been shown to have decreased efficacy in patients with specific genetic variations. Testing for these variations indicates patients who may require a higher dose of statin medications, or may benefit from alternate cholesterol lowering therapies.
What companies offer pharmacogenetic testing?
A number of companies offer pharmacogenetic testing. Genesight, for example, offers testing related to genetic variants affecting medications prescribed in the behavioral health setting. The company states that treatment for major depressive disorder guided by Genesight's products results in a 70% greater improvement in depressive symptoms compared to "unguided treatment as usual".
Will insurance plans cover pharmacogenetic testing for my patients?
Genetic testing is not yet widely covered by health insurance policies. According to a recent study, just one-third of insurers had at least one genetic testing policy, with oncology and personalized medicine the most frequently addressed forms of testing. Individual companies offering genetic testing may provide more detailed information about coverage for their specific products.
Can you give an example of how pharmacogenetics is currently used in practice?
Emily, the nurse practitioner I mentioned above, uses genetic testing in her practice to determine which of her patients metabolize psychiatric medications more rapidly than other. Emily simply swabs her patient's cheek and sends the sample off for DNA testing. The testing company analyzes the individual patient's genome for genetic variants affecting metabolization of 55 different medications, specifically those prescribed to treat psychiatric diagnoses.
Emily then compares test results with the patient's current or proposed medication regimen. When a patient's genetic code includes a variation associated with a rapid metabolic rate, she prescribes a higher dosage of the medication, or prescribes an alternate medication that may be more effective for that individual. This process eliminates much of the trial and error period associated with prescribing psychiatric medications and can also confer significant cost savings to the patient.
Does your practice use genetic testing to guide prescribing?
Your email address will not be published. Required fields are marked *
STAY UP TO DATE WITH NEWS & BEST PRACTICES
Form