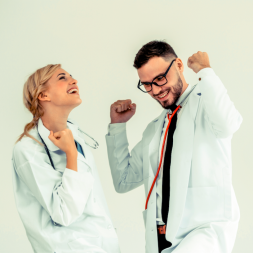 ---
How's your Nurse's Week going so far? I hope you've had a chance to be adequately appreciated. If not, treat yourself. Ditch your diet, buy some chocolate, kick your feet up and watch your favorite show tonight after work. Forget the dishes, cleaning and kids- you need a break! In honor of Nurse's Week, one RN has put her experiences to verse in a laugh-out-loud rendition of what life as a nurse is really like.
A Nurse's Week Ode to Nurses
By Anna Kadeg, CRNA
As you already know we're a breed of our own
our sense of humor all twisted
and jaded and wrong
Our shifts can go all through the night
We'd kill for an eight-to-four
Instead we come home just before light
We wear PJ's to work
and, yes, clogs that match
but I suggest you not smirk
'cus we're one feisty batch
We've been spit on and bitten
and cussed at and bruised
We've seen old ladies like kittens
become vicious and confused
Our skin may be think
but yours would be too
if a day on the job
meant examining poo
Our hands have been places
you never would guess
and our eyes have seen cases
a mind can't repress
And now there's the joy
of technology
when your everyday-Joe
can earn his WebMD
"My mom needs this pill,
I read it, you'll see"
DO NOT pay the WiFi bill,
every nurse plea's
I know desk jobs are hard
and every workplace has stress
but I've never seen a business-lady
with puke on her dress
And that's why, I think,
there's a week like this one
because nurses are on the brink
of coming undone
A nurse gives and gives, and then gives some more
and on her way home, she stops at the store
she makes sure you're fed, and the house is kept clean
and does a million-and-one other things that go unseen
You talk about your day
and she listens and cares
she hugs stress away
and your burdens she bears
But a nurse is alone
when it comes to her day
she'll throw you a bone
and attempt to portray
When you ask how her shift went
she smiles and says "tiring"
"It was long and I'm spent,
I wonder if Macy's is hiring"
She's joking you know
and she always says "tired"
so you turn on a show
as she folds clothes from the dryer
But "tired" is a word
used when nothing else works
to explain how 12 hours feels
calming a family's berserk
It's when the job interferes
you can't stay while she cries
as her husband of 65 years
takes his last breath and dies
It's a girl's call light in one room
a frantic man in another
"that took five minutes!" she fumes
you can't say, but next door, he's losing his brother
It's when diabetes take his leg
yet all day he whines
demanding brownies, he begs
you throw up your hands and say "fine"
"Tired" is tethering an old man to this world
with tubes and with hoses and wires
"DNR", "don't revive" his pen clearly swirled
his family ignores his final desires
It's heavy, it's true
nurses carry a lot
but their patients do too
they're not feeling so not
So don't let nurses week slide
without any mention
don't count on others to provide
them much needed attention
Don the chocolates and cards if you're smart
and please, please not the scrubs with the hearts
give the nurse in your life the thing she needs most
a recliner, a six pack, and for once YOU make the roast
This Nurse's Week let your girlfriend freak out
to you on the phone and then stomp about
and maybe this time, instead of thinking she's weak
you'll remember what "tired" means, and save the critique
If your mother's a nurse
a few kind words will do
a note in her purse
that says ""thanks for the shoes"
"I know how you earned the
the blood sweat and tears
the long hours and phlegm
and you've done it for years"
If YOU are the nurse
then just do what you love
for once please be selfish
give your charting a shove
Sit with your patient
and take time to talk
remind yourself why
it's worth long hours and crocks.
Your email address will not be published. Required fields are marked *
STAY UP TO DATE WITH NEWS & BEST PRACTICES
Form