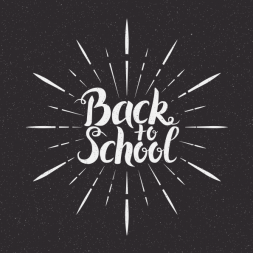 ---
If you're planning to start your nurse practitioner program this year, getting organized before the fall semester revs up can make all the difference in setting you up for success right off the bat. Not to mention, organizing yourself before your program starts can help you get a grip on balancing school, work and family life before it has time to get out of whack. Here are five ways to get organized for back to school.
Plan Out Your Time
Once you receive your class schedule, invest in a planner or datebook (like one of these chic options), or download a calendar application onto your phone. Start blocking off times for your classes, your work schedule and any family or social commitments you know you have over the coming semester. Make a point to add any new events to your calendar as you become aware of them so you can stay on top of managing your time accordingly. Then, block of specific times each week to dedicate to course related work like studying, reading and assignments; commit to finishing your assignments during these allotted times. Be specific with the type of studying you'll be doing during these blocks; for example, will you be using the time for reading, making flashcards, researching for papers, etc.? Sticking to a weekly schedule such as this will not only help you stay organized, on task and free from distractions, but it will help you keep a healthy balance between school, work and family life.
Have a Filing System in Place
Before the semester begins, consider what type of filing system works best for you and have a plan in place as to how you'll keep track of all of the information you'll acquire over the school year. Whether you're the type of NP student who prefers to print out course materials and take notes in the margins or the type who prefers a more electronic method, you'll need to devise a filing plan for keeping both paper and electronic documents organized as you'll undoubtedly accumulate both throughout the semester. Use a binder system for each class. Likewise, on your computer, create embedded folders for each course. Then create subfolders both in your binders and on your computer within the course folder to further organize notes, documents, handouts and graded exams. Remember, organizing your computer files is just as important as putting your papers in order, so don't neglect either. A filing system will help you keep your paperwork from getting out of hand as well as make it easier for you to find your materials for each class.
Use a Task Management Tool
While time management helps you stay on top of your responsibilities and how you'll utilize your time, task management helps you stay on top of projects and assignments and encourages you to be more productive in tackling your to-do list. Purchase a planner pad that has a section for listing tasks or download a free project management application tool such as Asana, Evernote and Trello (all of which allow you to organize your to-do lists online and send yourself email reminders). Organize your tasks in order of priority such as by due date or by the length of time it'll take to complete. No matter the task management tool you use, be sure you have something you can carry with you to class so that you can jot down tasks and due dates the moment you become aware of them. If you use a separate notepad for this, be sure to transfer any entries over to your official task manager as soon as possible.
Stock up on Supplies
Once the semester begins, you need to be ready to hit the ground running with assignments and readings. Any extra time spent buying all of your supplies after the semester begins will waste what free time you do have. Purchase all of the required textbooks and reading materials for your various classes before they start and double check to ensure that you haven't missed any. Look over your course syllabi to see what basic school supplies you'll need to complete assignments. Then take stock of what you already have and purchase what you don't before school begins. It never hurts to stock up on extra pens, pencils, dividers, computer paper, folders, highlighters, sticky notes, etc.
Establish an Organized Study Area
You may not have a home office or spare bedroom to utilize as your study space but you can and should still designate an organized study area, even if it's just your favorite spot on the couch. Keep the area clear of clutter and equipped with all of the supplies you'll need to complete assignments. No matter the space you designate, make sure it's a place that's quiet and private. Maintain organization by putting things back where they belong when you're done with them so you don't waste precious time looking for them during your next study session (also, try these 9 cheap ways to create a cheery workspace). And if you have children, child-proof the area so you can stay organized and avoid losing important documents for class.
No matter your organizational preferences, setting up a strategy that you can commit to is imperative if you want to stay organized throughout the semester.
Your email address will not be published. Required fields are marked *
STAY UP TO DATE WITH NEWS & BEST PRACTICES
Form