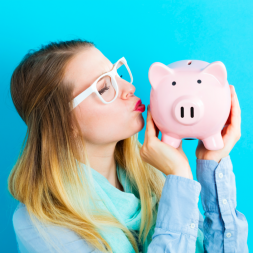 ---
With the holiday season upon us, there's one thing most of us are thinking about in addition to festivities and cheer – finances. If you're a nurse practitioner student, the importance of budgeting is heightened. With student loans accruing and the student budget lifestyle ever on your mind, the holidays can be anxiety provoking from an NP student's standpoint. Fortunately, there are a number of apps out there to help nurse practitioner students budget and save those precious dollars. Here are a few of our faves.
1. Ebates
Is anyone else out there a big online shopper? If you're a nurse practitioner student that appreciates the convenience of purchasing good from your laptop, Ebates is a money-saving essential. The service incentivizes shopping by giving cash back in exchange for spending money. The company partners with more than 2,000 retailers ensuring that at least some of your favorite stores qualify for this savings option. Simply sign up for an Ebates account, click on your retailer of choice and start to shop. Every three months you'll receive a check in the mail. You're spending money anyway, why not get rewarded, right?!
2. Honey
Do you look for coupon codes before you buy online? The process of searching for valid coupon codes can be frustrating. Many codes are expired or simply don't work. You can spend a lot of time looking for savings before you find that perfect combination that works. Honey, a browser extension solves this problem. The program automatically searches for and applies coupon codes as you shop online. Simply place items in your shopping cart and Honey activates saving you time and money.
3. Raise
In the past I've received gift cards from relatives as presents for stores and restaurants that simply don't exist where I live. Or, to which I don't frequent. If you've got a few lingering unused gift cards that you're not likely to cash in, Raise helps offload them in exchange for cold hard dollars. Alternately, you may purchase unwanted gift cards from others at a discounted rate. Raise users can also set alerts to receive notifications when gift cards from their favorite retailers are being sold.
4. SnipSnap
One frustration I have with coupons I receive in the mail is that I'm constantly forgetting them. I head to the grocery store planning to take advantage of an offer only to realize the required coupon hasn't made the trip with me. SnipSnap allows you to take photos of printed coupons creating a mobile coupon to be used in-store. The app also uses information in the coupon barcode to send you reminders about expiration dates. Not only can you track your own coupon clipping with SnipSnap, the app also shares most coupons with other users allowing you to take advantage of deals you may not have been aware of.
5. LivingSocial
LivingSocial is an online marketplace with which you can purchase things to do in your city. From local workout classes to tourist attractions, the website features discounted rates on events, sights, restaurants and day-to-day activities. Whether you're looking to entertain guests, get some weekend plans on the calendar or switch up your fitness routine, LivingSocial helps you save. Not to mention, the site is a great way to get fresh ideas for entertainment.
6. GasBuddy
True to its name, GasBuddy helps you save at the pump. The app tells users where and when to fuel up showing the lowest local prices for gas. Users may also use the app's payment system which connects directly with your checking account and shaves 5 cents a gallon off the price of gas at most stations in the U.S. Makers of the app say that users save on average $340/year with GasBuddy's services.
What apps do you use to help save as a nurse practitioner student?
You Might Also Like: Advice for New Grads from Not-So-New Grad NPs
Your email address will not be published. Required fields are marked *
STAY UP TO DATE WITH NEWS & BEST PRACTICES
Form