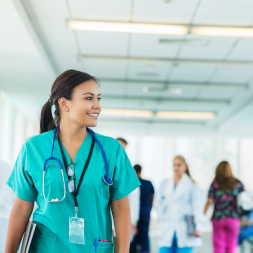 ---
The clinical experience component of your nurse practitioner program is hands-down, the most important part of your education. Every nurse practitioner program requires that students complete clinical hours in multiple sites and often in different areas of practice. While some programs will help students secure sites, others will not, which can be a very frustrating task for NP students to do all on their own. If you haven't yet selected which FNP program you'll attend and are considering schools in the Midwest, here are four programs that secure clinical placement sites for their students.
University Park, IL
Governors State University understands that most of its FNP students are working nurses with lives and careers that demand much of their time already. As such, the program makes it a top priority to help students every step of the way. Not only do they have a clinical coordinator that secures sites, but they also match students with a faculty mentor who will help the student assess and achieve their career goals as an FNP.
Saint Anthony College of Nursing
Rockford, IL
An affiliate of OSF Saint Anthony Medical Center, Saint Anthony's College of Nursing is a private, nonprofit institution that specializes only in educational programs for aspiring nurses. The FNP program finds clinical sites for all students and in every rotation.
Chicago, IL
At Saint Xavier University, the FNP program director works diligently to secure appropriate clinical experiences on behalf of the students; if a student finds a site on their own or a preceptor they want to work with, the director will work to secure the contract, if one is not already in place, as well as complete all the other activities necessary to confirm the placement. FNP students also have the unique opportunity to complete an international clinical experience in the second year of their program.
Columbus, OH
In the FNP program at Ohio State, students complete their clinical experiences in a wide variety of geographic locations and sites throughout Ohio, working with NPs and physicians from a variety of specialties in ambulatory primary care settings. In the final semester of their program, clinical work can be individualized to assist the student in meeting specific career goals.
Rochester, MN
A clinical placement coordinator matches students with clinical sites at Winona State University. In addition, the school offers multiple formats for completing didactic content in the FNP program. Courses may be taken online, on campus or in a hybrid format.
Are you having difficulty finding a preceptor as a nurse practitioner student? Share your experience below.
Your email address will not be published. Required fields are marked *
STAY UP TO DATE WITH NEWS & BEST PRACTICES
Form