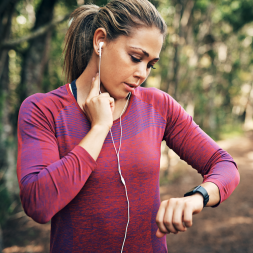 ---
The Apple Watch Series 4 is taking health management to a new level. With powerful sensors, Apple claims it's newest watch is the ultimate device for patients and their providers. Not only is it capable generating an ECG that is comparable to a single-lead electrocardiogram that could detect early indications of irregularity such as AFib but it also has fall detection and Emergency SOS capabilities, amongst many other health related features.
The Heart Rate Features
Using the touch of a fingertip, the Digital Crown on the watch reads electrical heart impulses for thirty seconds and then indicates to the user whether their heart rhythm shows signs of atrial fibrillation or sinus rhythm. Apple advises that although this feature won't detect all instances of irregularities, it may be beneficial in helping users catch early indications of AFib, prompting them to seek further evaluation from a licensed healthcare provider. If a patient has symptoms that indicate a serious condition, the device prompts them to call emergency services immediately.
In addition to the ECG feature and its corresponding app, the watch can continuously check for unusually high or low heart rates using an optical heart sensor that detects the pulse wave at the wrist. The device then notifies the user via a notification if the watch's algorithm detects a recurring irregular rhythm while the user is at rest. According to Apple, "in a clinical study, the rhythm classification by the ECG app of a single lead ECG on Apple Watch was compared to the rhythm classification by a cardiologist of a simultaneously collected 12-lead ECG. The ECG app demonstrated 99.6% specificity in classifying sinus rhythm and 98.3% sensitivity in classifying AFib for the classifiable results. In this study, 12.2% of recordings were not classifiable."
Both the ECG app and the irregular rhythm notification feature have been granted De Novo classification by the FDA for users who are 22 years and older with no prior history of AFib (according to Apple). Heart rate data from both of these features are transferred to the iPhone Health app, which allows users to track everything in one convenient place. The information, which includes the waveform, results, dates, times and any other recorded symptoms can be exported to a PDF to be sent to the user's physician.
Fall Detection
A fantastic feature for geriatric patients or those at a fall-risk, an accelerometer and gyroscope allow the Series 4 to detect when a user has fallen. If and when an incident occurs, a hard fall alert is delivered on the watch and allows the person to either dismiss the alert or initiate a call to emergency services. If, after 60 seconds, the individual is unresponsive to the hard fall alert, an emergency call is placed automatically. In addition, the predetermined emergency contacts set by the user will also be notified and the user's location will be sent to all parties.
Emergency SOS
Similarly to its fall detection, the Emergency SOS feature allows device wearers to quickly get help with the touch of the watch's interface. Likewise, it will also not only call 911 but will also notify emergency contacts and provide a current location for emergency responders. The device also displays a Medical ID badge on the screen. The Emergency SOS feature is accessible even when a user is away from their phone, provided they have the cellar feature on their watch.
Additional Health Features
Additional features for the Apple Watch Series 4 include a Breathe app that acts as a meditation tool to help the individual stop, relax and breath and there's even a menstrual cycle tracker for women. Whatever your patients needs may be such as better management of diabetes or overall health improvement, the Series 4 has an app designed to help them prioritize and meet their health goals goals.
How Much Does the Series 4 Cost?
The Series 4 ranges from $399 – $799; though quite pricier than earlier series in the line, according to a CNBC report, Apple and Medicare plan providers are currently in talks to come up with ways to subsidize the Series 4 watch for senior patients. Apple has already entered into partnerships with Aetna and United Healthcare that will grant customers the opportunity to redeem points for gift cards or toward payments for the latest Apple Watch; however, customers must meet certain activity goals and health related challenges. This particular program will be available later this spring.
Other insurance companies do offer incentives and Apple Watch Payment Programs, wherein the company will provide an Apple Watch with the caveat that patients must pay taxes and shipping, and meet certain goals each day to, essentially, work towards paying off the watch, and it's likely they will include the series 4 as an option for customers.
Your email address will not be published. Required fields are marked *
STAY UP TO DATE WITH NEWS & BEST PRACTICES
Form