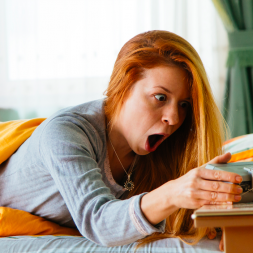 ---
Tomorrow is the big day. The day you've been thinking about all week; your job interview for a new position as a nurse practitioner. Over the last few days, you've (hopefully) taken the time to study over the job requirements, made a comparative list of your qualifications and have come up with a few examples of how your NP experience relates to this position; you've even perfected how you'll answer certain questions the interviewer may ask.
But now that the interview is less than 24 hours away, apprehension and anxiety have begun to set in. What if you sleep through your alarm? What if your car doesn't start in the morning or you spill coffee all over your freshly pressed shirt on your way out of the door?
These types of what if's are perfectly normal to have the night before a nurse practitioner job interview because unfortunately, they could actually happen; throwing a wrench into any NPs perfectly thought over interview. The good news is that by making a few extra preparations the night before your interview, you can lessen their probability and ultimately feel all the more confident that you'll land the job.
Choose your outfit
For NPs, picking out our daily attire is pretty effortless. Scrubs, check. Lab coat, check. Stethoscope, check. But when it comes to appropriate interview attire, it can get a little stressful. Whether you were the type of kid who laid out an outfit the night before the first day of school or not, spend some time the night before your interview selecting what you'll wear. This will ensure that you're not frantically rummaging through your closet the morning of. Make sure your ensemble is professional, clean, ironed and ready to go before you go to bed. It's also not a bad idea to have a backup outfit in case something does go awry in the morning, i.e. a button pops loose, a zipper breaks, or you do actually spill coffee on yourself.
Pack a bag with the essentials
If you're going to an interview during work hours and understandably don't want to show up in your scrubs and lab coat, pack your interview outfit(s) in a bag you can take with you. You may also want to include a few essentials such as deodorant and mouthwash. Be sure to throw in a notepad and a few pens in your bag or briefcase as well.
Print interview materials
Be sure to have at least one extra copy of your resume and any other materials you've prepared (like a nurse practitioner cover letter) printed out before the morning arrives and safely secured in a portfolio or briefcase. Waiting until the day of to print things out will can run the risk of an unforeseen printer snafu minutes before you need to leave the house.
Know where you're going
Do not wait until the morning to plan out your route to the interview site; be certain of where you need to go by double checking that you have the right address as well as how long it will take you to get there by mapping out the directions the night before. Because it never seems to fail that your phone service goes on the fritz while you're driving in a rush to get somewhere on time, it's not a bad idea to print, take a screenshot of, or write down the exact directions on a piece of paper to have with you as a backup (packed in your bag with your other materials). Make sure as well that you a full tank of gas (or at least plenty to get you there on time) and plan your departure time accordingly to accommodate for the flow of traffic.
Knowing where to go doesn't stop behind the wheel; you need to know where to go once you get to the facility, too. For example, if it's in a large hospital with confusing entrances and multiple parking garages, try to gather as much information on where to go as possible tonight and if you can't, plan to arrive about ten minutes earlier so you have enough time to find out where to without running the risk of arriving late.
Get a good night's sleep
Studies suggest that sleep deprivation can cause people to be more likely to make odd mistakes than they would if they had gotten a full night's rest; mistakes like leaving their keys in the freezer. A good night's sleep will set you up to be on top of your game tomorrow. Avoid alcohol and power down your devices. Catch plenty of zzz's before the big day.
What last minute advice do you have based on past nurse practitioner job interviews?
You Might Also Like: Secrets to Choosing an NP Job You Won't Get Tired Of
Your email address will not be published. Required fields are marked *
STAY UP TO DATE WITH NEWS & BEST PRACTICES
Form