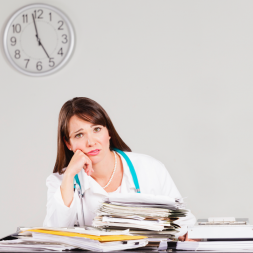 ---
As a nurse practitioner student you've got a lot riding on your clinical placements. A timely graduation, not to mention your education, depend on this critical piece of your NP program. While some schools assign clinical sites to nurse practitioner students, others leave NPs to find clinical preceptors on their own. This can be a frustrating task.
As a way to get hands-on experience taking patient histories, assessments and learning how to diagnose and treat patients, nurse practitioner programs include a clinical component. This clinical portion of your program is lead by a physician, nurse practitioner or physician assistant in the clinic or hospital. Usually, the NP student works alongside this practicing medical provider learning the ins and outs of patient care. NP programs require that students complete clinical hours in multiple sites and often in different areas of medicine. Finding a medical provider to precept you in this venture isn't always easy.
If you are having a difficult time locating a clinical preceptor, there are a few steps you can take to increase your chances of success.
1. Start early
Securing a clinical preceptorship on your own takes time. Inquire about what types of clinical sites, the number of hours, and time you have to complete these hours early on in your program. Even if you are a first semester nurse practitioner student, or haven't even started your NP program, it's not too early to start looking for individuals willing to help you in your education. Starting early in your preceptor search also gives you an edge over other NP students who will also be looking for placements.
If you haven't yet selected which nurse practitioner program you will attend, consider applying to NP programs that assist students in finding clinical preceptors. This will save you time and a major headache in the future.
2. Work with your university
Even if you attend a nurse practitioner program that does not assist students in securing clinical sites, faculty at your university have connections with the outside world. Ask the director of your NP program where students have completed clinical hours in the past. Providers that have precepted prior students and enjoyed the experience will likely be up for the task. Faculty may also have connections with other nurse practitioners and physicians from their own personal practices. If you are a quality student, your instructors may be willing to refer you to their professional connections in your search for a clinical preceptor.
3. Ask alumni
Past graduates of your nurse practitioner program likely had similar problems securing clinical preceptorships as NP students and will relate to your quandary. If you are acquainted with any alumni of your nurse practitioner program, even if you don't know them well, ask for a connection with their past clinical preceptors. This way you not only have a lead on clinics or hospitals that may be willing to take students, the personal connection also serves as a referral giving you credibility in the eyes of a prospective preceptor.
4. Use your personal connections
E-mail or call everyone, and I mean everyone, you know asking if they know any NPs, MDs or PAs they would be willing to connect you with. Chances are that if you poll your connections, at least a few know a medical provider personally. Even if the leads you get don't fit the requirements for your clinical placement, connect with these medical providers to see if they would be willing to refer you to a colleague who can help you fulfill your specified clinical placement.
5. Share with current students
Finding a clinical site before it is snatched up by another NP student may not always be feasible, so why not share clinical preceptors with other students? If a fellow student is currently completing clinical hours at a site that interests you, ask for an introductions to the precepting provider. This way, you may be able to step in once your colleague is finished with that particular clinical rotation. Offer to do the same for other students.
6. Reach out on your own
If times are tough and none of your clinical- finding strategies are working, reach out on your own to local medical practices as a last ditch effort. Create a killer resume, put on your job interview suit, hop in the car and start touring the city. Small clinics are more likely to be receptive to your efforts as they may be able to use an extra hand and are generally more personal. Reaching out in rural areas, or at least areas outside of a major city may also increase your chances of success. Clinical sites close to NP schools fill quickly. Commuting outside of your immediate area and increasing the scope of your search will lead to more options.
When taking this approach, visit clinics in the early morning hours right at opening before receptionists are inundated with patients and providers are running behind. If you can't speak to the provider directly, leave a resume and a short cover letter explaining your mission. Don't forget to follow-up when you make a promising connection.
7. Flexibility is key
Clinical sites are hard to come by. Universities with large preceptor networks even advertise that students may be required to commute up to two hours each way to a clinical site. So, buck up, put on a good attitude, and get flexible. You may not get a clinical placement in the specialty of your dreams and you may have to drive 50 miles to get there, but your end goal will be accomplished. You will learn and you will graduate.
8. Embrace rejection
When you reach out to MDs, NPs and PAs asking them to act as your preceptor, you will undoubtedly be rejected, even by personal connections. Don't be offended. Many providers are already overwhelmed in their practices and the thought of training a student along with their current workload is too much to take on. Instead, embrace rejection by telling them you understand but would appreciate if they could connect you with another medical provider who would be willing to help out. This expands your network of prospective preceptors.
Have you had success in finding a clinical preceptor? Which tactics did you find most effective?
You Might Also Like: Loan Repayment Programs for Nurse Practitioners
Your email address will not be published. Required fields are marked *
STAY UP TO DATE WITH NEWS & BEST PRACTICES
Form