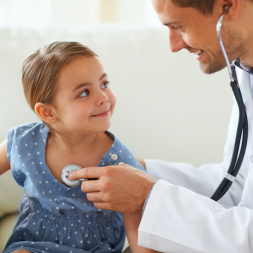 ---
If you're a sucker for binge-worthy material on Netflix and haven't seen Call the Midwife yet, you won't regret putting it on your must-watch list this summer. Set in the postwar era of the early 1950s, Call the Midwife is based on the memoirs of one nurse's experiences at Nonnatus House, home to the nuns of the order and the headquarters for the midwives of East London. While the primary focus of the show is on midwifery, anytime the diverse residents of the community are in need of medical care, without hesitation the nurses and nuns travel via bicycle through the streets of Poplar regardless of the time of day or weather, to tend to their patients in their own homes.
The idea of house calls being so common at one time leaves one to wonder, was the downfall of the house call the right step towards better care for both providers and patients; and given the advancements in modern technology, could we see them make a successful comeback any time soon?
The rise and fall of the house call
The practice of providers traveling to their patients' homes goes back to the origins of medicine. It was common for physicians and nurses to travel via various forms of transportation with their black leather bags in tow to tend to patients at their bedside. Receiving care at a hospital was quite rare, and reserved for the most critical cases, never a first resort. As depicted in Call the Midwife, patients were hesitant and very fearful at the thought of being shipped off to the hospital for further tests and observation. As shown on the series, it wasn't until the 1960s when the practice of house calls began to become less common, not just in England but in the United States, when the practice of patients traveling to the doctor's office for care slowly took place as the norm.
It's understandable that major factors like productivity and cost-effectiveness for doctors played significant roles in the fall of the house call. Rather than spending their own time and, ultimately, money traveling to the patient, doctors could see more patients for less of the cost by having patients visit them instead. Over time the financial burden on providers did decrease and their abilities and efficiencies increased. Throughout the last sixty years, house calls in the U.S. have been almost completely eliminated; in fact, they comprise less than one percent of healthcare consultations today in America.
The negative impacts on patients
Although the transition to in-office visits has certainly had its positive outcomes, the near elimination of house calls has also had its downsides, especially for patients. As the responsibilities have shifted onto the patient to travel to their doctor's office instead, so have the financial burdens. In turn, it is the patients who have had to spend their valuable time and money traveling to and waiting for their doctor.
According to a JAMA study in 2013, patients spend an average of 37 minutes traveling to their doctor's office for their appointment. Once there, they spend a total of 64 minutes filling out forms and sitting in the waiting room. They then only received 20 minutes of face to face time with their provider. In total, patients spent more than two hours of their time on the average doctor's visit, which came out an estimated $43 in lost productivity; which is more than the average $32 that most patients pay out-of-pocket for doctors visits. In several minority groups, the loss in productivity was greater as the wait times for care were even longer due in large to the fact that most of these patients seek primary care at clinics and in emergency rooms, wherein it takes longer to see a provider than in a private practice setting. The financial impacts in these situations are much more burdensome to lower-income patients and ultimately makes it even more difficult for them to afford their visits.
The near elimination of house calls has also had a significant impact on homebound and elderly patients as well. In another JAMA study published in 2015, 2 million Medicare patients age 65 or older were homebound in 2011; a number larger than the nursing home population. Many of these patients live with severe chronic conditions and functional impairments such as dementia, heart disease, and movement disorders. These types of patients find it difficult to visit their doctor and often delay doing so until their conditions have worsened to the point that they require ambulatory care. They resort to using emergency rooms for basic primary care and have high rates of hospitalization and readmission, which makes them the most expensive Medicare beneficiaries; whereas if these patients had consistent in-home care, the results could be different.
Can housecalls make a comeback that's effective?
Although telehealth has become a very valuable service that reduces the need for time-consuming in-office consultations, it is remiss to think that there isn't a place for house calls in modern medicine, especially given the limitations of telemedicine. Considering the advances in modern technology, with the proper training and cloud-enabled diagnostic, therapeutic and decision-support tools, we could see a comeback of the house call; perhaps not just yet for able-bodied patients but specifically for homebound patients. It could even be cost-effective for patients, providers and the healthcare industry overall.
Over a five year period, a Medicare demonstration project called Independence at Home (IAH) experimented to see if home-based primary care could produce improved clinical results and cost savings for chronically ill and disabled elderly patients. Seventeen home-based primary care programs participated in the project using their own practice models, however each patient in the program had a team consisting of physicians, NPs, PAs, social workers and other healthcare professionals that coordinated all medical and social services for the patients; providing them with 24/7 access to care, home-visits within 48 hours of being discharged from the hospital or emergency room, and a mobile electronic health record. If the participating programs reduced costs to Medicare by more than 5%, they were allowed to keep 80% of the savings.
Within the first two years of the experiment, more than 10,000 homebound patients were served and over $33 million was saved in costs, with $16 million going to Medicare and nearly $17 million to nine of the participating programs who exceeded the minimum savings. Not only did the results exceed financial expectations but it improved patient care; all seventeen programs participating in IAH had reduced emergency room visits, hospitalizations, and readmissions for homebound patients. The teams were also able to identify problems that might not have been uncovered in an office visit, such as patients using the wrong medications, fall risks and other factors that contributed to the well being of the patient. IAH concluded its demonstration project in September 2017. Currently, a Senate bill is seeking to make IAH a permanent Medicare program.
A major factor in the successful return of house calls will depend on whether health insurance companies will be on board with providing coverage for patients. In addition, it will also depend on attracting and training healthcare providers on house call medicine; which may be more difficult in rural areas. Several education programs are already preparing for the future return of house calls including Mount Sinai Visiting Doctors, which teaches house call medicine to third-year medical students, residents and fellows as well as nurse practitioner students. If and when IAH becomes a Medicare-approved program, medical and nursing schools would also need to provide related clinical education on house call medicine to its students.
Your email address will not be published. Required fields are marked *
STAY UP TO DATE WITH NEWS & BEST PRACTICES
Form