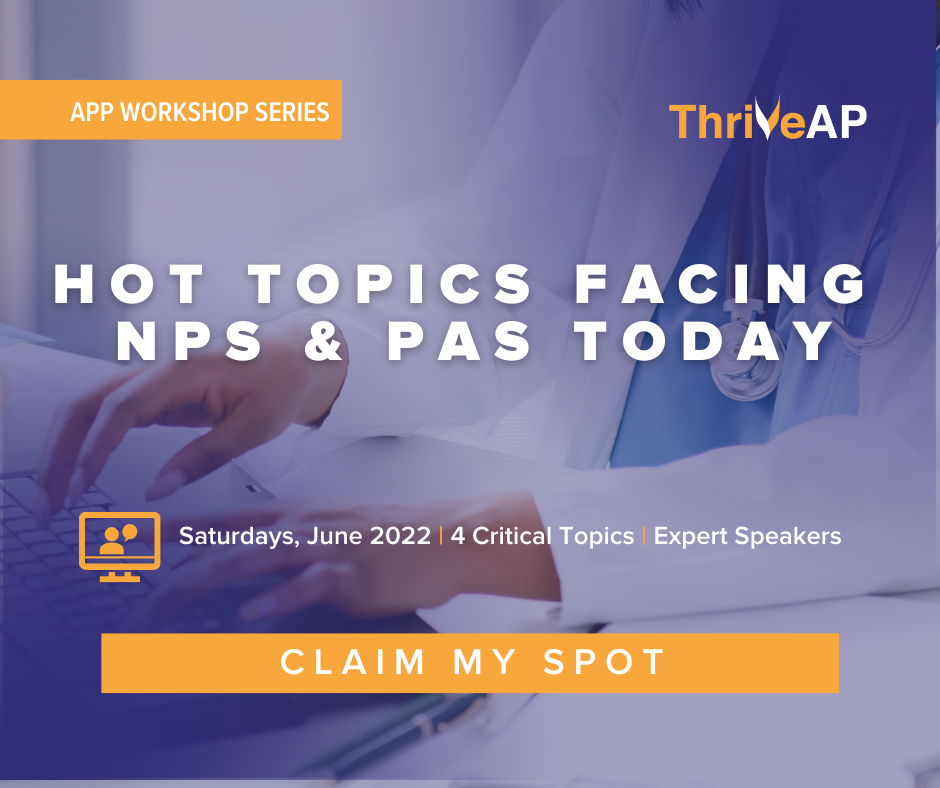 ---
ThriveAP is excited to announce our four-part workshop series designed specifically for advanced practice providers (APPs), "Hot Topics Facing Nurse Practitioners & Physician Assistants Today." We developed the workshop series to address the evolving complexities of patient care, overstretched APPs, and new challenges and responsibilities of the role in today's climate.
We will cover four of the most common hot topics facing NPs and PAs, empowering you with the knowledge and skills required to perform your role optimally, and with confidence:
Women's Health
EKGs
Obesity in Primary Care
Anaphylaxis
Explore all four workshops below, and register! If you are a current participant in the ThriveAP program you can attend at no charge! Contact your class leader for your special FREE attendance code!

Taught by: Jessica Pettigrew MSN, CNM
CME/CE: 2.0 hours*
Primary care is in a unique position to address the diverse health needs of women. This workshop will discuss: All that itches isn't yeast, and stop silent suffering- let's help our patients with Pelvic Floor Dysfunction. After completion, participants will be better able to:
Differentiate, identify, and treat vulvar dermatoses and vaginitis.
Perform vulvar biopsy or refer for biopsy when needed.
Perform an advanced systematic pelvic floor exam to evaluate non-gynecologic causes of chronic pelvic pain.
Define persistent/chronic pelvic pain and distinguish it from other causes of gynecologic symptoms.
Develop an evidence based, multimodal treatment plan for persistent pelvic pain.

*
pending credit approval

Taught by: Anna Carlini, DMSc, PA-C
CME/CE: 2.0 hours*
Interpreting EKGs is intimidating for any provider. This workshop will simplify the process of EKG reading by starting with basic interpretation and moving on to more advanced readings and arrhythmia identification. After completion, participants will be better able to:
Understand the cardiac conduction cycle.
Read rate and rhythm on an EKG.
Describe the characteristics of a normal 12-Lead EKG
* pending credit approval

Taught by: Angela Golden DNP, FNP-C, FAANP
CME/CE: 3.0 hours*
Obesity is a common, serious, and costly chronic disease with an increasing prevalence in the United States. This workshop delves deeper into the epidemiology, pathophysiology, treatment plans, and billing/coding options for obesity management. After completion, participants will be better able to:
Recognize the burden of obesity as a chronic disease, and the need to overcome barriers to its early diagnosis and treatment
Explain the pathophysiologic mechanisms by which excess adiposity occurs and causes obesity-related complications
Implement evidence-based guidelines to direct the treatment for the management of obesity
Understand basic coding for obesity management
* pending credit approval

Taught by: Brian Bizik, MS, PA-C
CME/CE: 1.0 hours*
Anaphylaxis is a severe, emergent allergic reaction that can occur within seconds or minutes of allergen exposure. This workshop prepares the clinician to manage this potentially life-threatening condition. After completion, participants will be better able to:
Discuss and recognize the signs and symptoms of an anaphylactic reaction including early identification and determination of when to administer epinephrine.
Appreciate the need for early epinephrine administration and the logic behind this recommendation. This will include understanding the mechanism of epinephrine, medication administration, and follow up care for an anaphylactic reaction.
Interpret the data on extended anaphylactic reactions and risk factors for a biphasic reaction.
Your email address will not be published. Required fields are marked *
STAY UP TO DATE WITH NEWS & BEST PRACTICES
Form