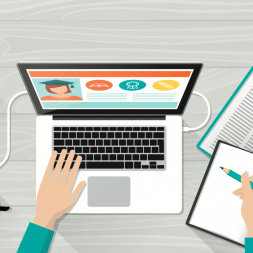 ---
Physician Assistant Programs offered exclusively online are currently non existent. But pending approval at an ARC-PA meeting to be held this fall, Yale University may very well become the first educational institution to offer a Master's Physician Assistant Program that can be completed via distance learning. If granted accreditation, the program would matriculate its first cohort of students as early as January 2018. While Yale Physician Assistant Online would have a separate accreditation status from the Master's Physician Assistant Program offered on-campus, graduates of either program would receive equivalent degrees and be eligible to take the PANCE.
Yale's proposal of a distance learning option has received some criticism. Opponents argue that the online format will be detrimental for the PA profession and that it will devalue the education and training that PAs of traditional on-campus programs receive; whereas proponents argue that this is the step in the right direction to meet the demand for healthcare. Despite the opposing arguments, Yale's School of Medicine is moving forward with its plans to gain accreditation and has already begun accepting applications in anticipation of approval. So just how does Yale PA Online compare to School of Medicine's current Physician Assistant Program?
Curriculum
Identical to the on-campus program, Yale PA Online can be completed in 28 months of full time study. And while both programs' curriculums are delivered through classes and clinical rotations, the curriculum for the program at the campus puts heavy emphasis on a research component, which requires students to complete a thesis at the end of their program. Currently it does not appear that online PA students will be required to complete a thesis as part of their curriculum.
During the first 12 months of the curriculum for the online program, however, students will focus on coursework taught by Yale faculty in a virtual classroom exploring the various organ systems. As students work to refine their clinical skills, the classes will integrate pediatric, emergency and geriatric medicine. Online PA students will also work closely with a mentor chosen by Yale in his or her own community who will provide support and assist with the development of the students' clinical skills.
Unlike the PA program offered on-campus, which requires students to complete 10 mandatory and 4 elective rotations during the clinical phase, online students are only required to complete 7 mandatory and 3 elective rotations. Yale placement specialists will work to identify and secure placement sites on behalf of online students in or near their communities; whereas PA students attending the program at the Yale campus must complete most of their rotations in the State of Connecticut at pre-approved sites.
The online program includes three, week-long immersions on campus throughout the program. At on-campus sessions, students will have the opportunity to hone surgical skills with cadaver dissection as well as gain experience working in team-based environment.
Admission Requirements
Yale PA Online uses its own application which is completely separate from the CASPA application; whereas students applying to the traditional program at Yale are required to submit a CASPA application. Aside from this main difference, both programs share many of the same admission requirements, such as the completion of core undergraduate prerequisite science courses, a cumulative science GPA of 3.0 and a four-year bachelor's degree prior to matriculation.
Applicants of both programs at Yale are recommended, but not required, to have a minimum of six months full-time healthcare employment, or 1,000 hours of direct-patient care experience. They must also submit transcripts, essays, GRE test scores, and three letters of recommendations to be considered for acceptance. Neither program will accept previous experience or medical training for advanced placement.
While the PA program on-campus accepts international students, admission is highly competitive with the average acceptance of only 38 students annually. Currently, the online program is only accepting applications from students residing in Arizona, California, Connecticut, Florida, Hawaii, Idaho, Kansas, Nebraska, New Jersey, Oklahoma, South Carolina, South Dakota, Texas and Vermont; however the program plans to accept up to 350 students each year.
Tuition
The School of Medicine anticipates that the total tuition for the PA Online program will be approximately $94,500; which does not differ much from that of the on-campus program's tuition rate of $92,824 total. In terms of overall budget, the university anticipates that the total cost of attendance for both programs will be equally similar when considering the added cost of fees, books and supplies, transportation, etc., in addition to tuition.
Yale's program presents a unique opportunity for students interested in the physician assistant profession. It makes the PA profession more accessible to students with limited ability to relocate who reside in areas without access to physician assistant education. While many nurse practitioner schools have taken education online, PA schools have been hesitant to follow. Perhaps more will join the trend with the accreditation of Yale's online physician assistant program.
You Might Also Like: Top 5 Most Expensive Physician Assistant Programs
Your email address will not be published. Required fields are marked *
STAY UP TO DATE WITH NEWS & BEST PRACTICES
Form