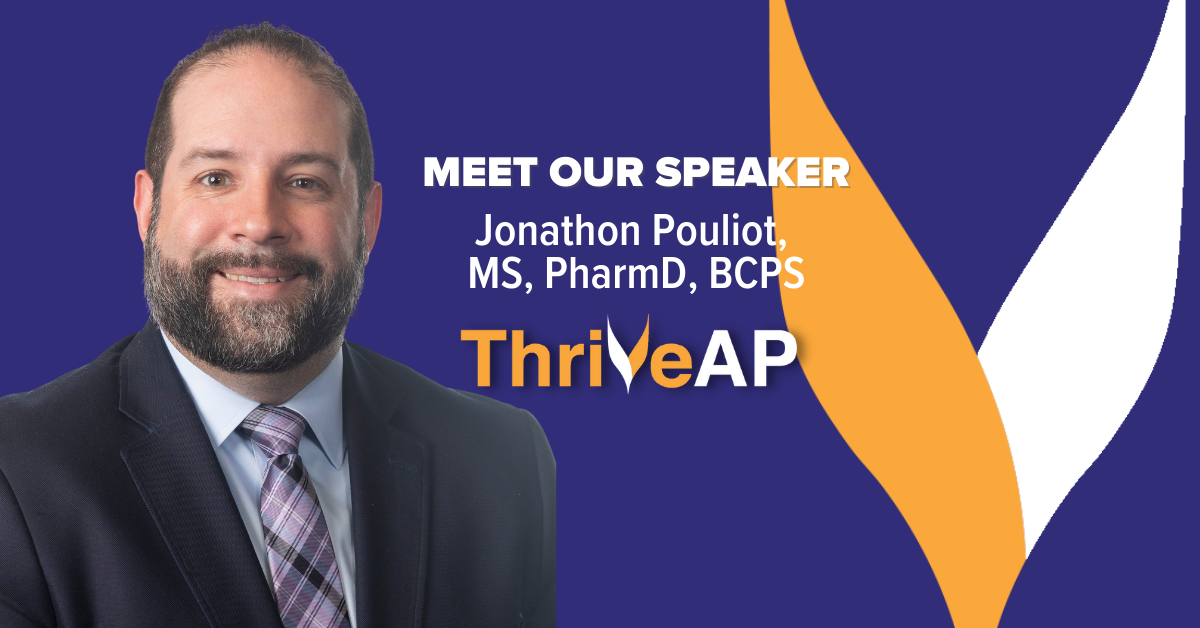 ---
Featured ThriveAP Faculty Discussion: Jonathon Pouliot, MS, PharmD, BCPS
At ThriveAP we are honored to have an expansive faculty of expert speakers and APPs with impressive credentials and experience. Today we going to take a few moments to get to know one of our speakers better and gain their advice for thriving in an advanced practice career.
Jonathon Pouliot, MS, PharmD, BCPS shares his career path, advice on what to look for in a mentor, journals and publications he uses to stay abreast emerging best practices and more! Watch the interview below with Sarah Maxwell, ThriveAP Marketing Director and Jonathon Pouliot, MS, PharmD, BCPS, or read the transcript.
Meet Jonathon Pouliot, MS, PharmD, BCPS
Interview Transcript
Sarah Maxwell: Hello, my name is Sarah Maxwell, Director of Marketing at ThriveAP. We wanted to begin spotlighting our amazing expert faculty by getting to know our speakers a little bit better. Today we are kicking off with Jon Pouliot, MS, PharmD, BCPS. Thank you for joining us!
Jonathon Pouliot, MS, PharmD, BCPS: It is great to be here, thank you for having me.
SM: I will dive right in, I know you have been involved with ThriveAP since 2016. Tell us a bit more about your background, your experience and let us get to know you a bit better.
JP: I grew up in Rhode Island and went to undergrad at Providence College. I thought I wanted to go into medicine but decided I wanted to be a Pharmacist so I changed tracks and ended up in North Carolina for Pharmacy school. After graduating from school I moved to Nashville and completed some post-graduate training at Vanderbilt Medical Center in general care and in critical care. I found a passion for critical care, and emergency medicine - generally inpatient care. Then started some practices in middle Tennessee. In 2016 I joined the faculty at Lipscomb University College of Pharmacy and Health Sciences, where I have been serving as an assistant and associate professor since. I pretty much teach across the entire curriculum and for ThriveAP I have taught out-patient management of opiates and now I am excited to be connected with ThriveAP to be doing the newer in-patient course work.
Currently, in addition to my responsibilities at the university, I maintain a practice site in emergency medicine at Williamson Medical Center in Franklin, Tennessee. I have a little bit of the classroom and a little bit of actual practice that I can use to give my students a well-rounded experience. I live in Brentwood, TN with my wife and two daughters, they keep us pretty busy.
SM: Love chatting with someone local! ThriveAP is obviously headquartered here in Nashville, TN. Obviously we just heard how much experience you have and how well-rounded it is, it might be difficult to answer this but could you pinpoint if there is one really noteworthy career accomplishment that you have achieved? What would that be and why?
JP: I think getting a faculty appointment is probably one of my most noteworthy career accomplishments. Being able to teach and being identified as someone who can not only practice at a high-level but can also teach the next generation of Pharmacists - any by extension, in my role, I teach our Physician Assistants and a little bit of nursing so I am kind of in the different healthcare fields. That has probably been my biggest career accomplishment because it is one thing to achieve things on your own and be published and so on, but to have a university identify you as someone they think is qualified enough and competent enough to teach students is another level of accomplishment for me.
SM: Absolutely! I think that speaks to the amazing expertise you bring to the table and the varied experience you have had in the field. Congratulations!
I know we briefly touched on how you have been working with and speaking with ThriveAP since 2016 but can you tell us a bit more about what attracted you, with your already very busy schedule, to the opportunity?
JP: My passion for teaching started when I was in my post-graduate training, up until that point most of my exposure to healthcare was limited to pharmacy and Pharmacists but in my post-graduate training I really explored a lot of education outside of that area and I was in educational experiences with providers, advanced practice providers and nurses - so many areas of different practice that I wasn't familiar with. What attracts me to ThriveAP, generally speaking, is the opportunity to teach a different profession, a different area of practice, and to maybe be a little bit of an advocate for pharmacy. For the students that have been in my classes, I will make a joke about them contacting their friendly neighborhood Pharmacist- but that's the big thing, the challenge of tailoring my educational delivery to a different provider, a different aspect of care, and getting the experience to empower the next generation of practitioners to take care of patients better.
If you are interested in speaking with ThriveAP apply to join our faculty today!
SM: That is something I have really noticed through my experience with ThriveAP, it that seems to be a shared mentality across advanced practicer providers, that desire to give back to the community. You don't always find that in every field and in every industry but that passion, I have really picked up on in this line of work - especially with our speaking staff. There is this innate quality that you all have, you want to give back, you want to develop the future talent and you really want to help- it is really unique.
JP: I love it, I see it as a blessing more than anything to have found something to do with my career and by extension, working with ThriveAP, I actually really enjoy it. When you talk about a busy schedule, yes, I have a busy schedule, I have a lot going on at home with two kids chasing me around but it is certainly a no-brainer to be able to jump on a call for an hour or two with you all and do some education.
SM: We are obviously very grateful to have you. In a similar note, speaking of supporting your fellow APPs and helping to develop them, a lot of folks have a mentor or a couple that really helped them in their career get to the position you are today. What do you think are the a couple of attributes, if you are looking back to some of your mentors or peer mentors, that you think make a for a really good one - Or think are the attributes someone really needs in a mentor to be able to achieve their goals.
JP: One of the first things I have found in successful mentors, and I am thankfully in a position now in my career where I am starting to be a mentor for younger students, is listening. Listening to the person and understanding where they're coming from, what their career aspirations are, and understanding their personality - trying to guide them based on that information. Some of the ditches that mentors can get into are trying to cookie-cutter the mentee into what they think they should do. That is not really helpful, it is going to cause frustration on both ends of that relationship. I think the mentor, with the experience, with the breadth of knowledge, should really spend some time understanding what their mentee's aspirations are, and what are some of the things that make them tick - not trying to guide them into your career path but understanding that their career path is going to be unique to them. Maybe there will be some overlap but for the most part, empowering them. So, understanding what motivates them and then tailoring that guidance to the person so they can be as successful as possible and then cheering them on! Getting out of the way, being there as a support, but cheering them, facilitating their successes, helping them when they have shortcomings, and going from there. I think it all starts with mutual understanding and a listening mentality.
SM: I think those are really great points, and you make a good point about mentors sometimes getting tunnel vision and thinking their path is the right path, but everyone has different innate skills that they bring to the table- finding a way to foster those and support that is really key.
A little bit of a gear shift, healthcare is changing so fast! It is so hard to keep up with the latest advancement we need to know about or we should be aware of- do you have any favorite resources, business journals, app - anything you use to stay abreast those changes?
JP: One of the things I sign up for is tables of content for different journals that are applicable to my practice, or some are general like the New England Journal or JAMA and then sometimes, they're more specific to where your practice setting is - but I think that is really helpful, even if you're not reading all the articles, you're seeing trends and mentally making notes. I make it a point to try and read an article a day if I possibly can. Maybe that is a small article or a more in depth one but I do try and do that. Using those tables of content to not only see what is coming our from a primary literature perspective but also to what kind of trends you can note, I am seeing a lot of conversation about Alzheimers lately or Multiple Sclerosis or some infectious disease going on.
The other thing I think is to try and engage yourself with students and learners, be it formally or informally. Being on faculty I have students around me all the time, they really motivate me to stay abreast the latest information more than anything else. I don't need to know all the answers to every question for them but I want to model a mentality of continuous learning and self-improvement.
I would say those are the two big things, there are a couple apps that you can get, there is one called QXMD - it is an app that you can put in your different specialties and areas of interest and it will cultivate a daily experience. Instead of looking at all the tables of content you can get specific articles that are pertinent to what you're interested in. If you're into podcasts, I tend to do podcasts more than music in the car, I try not to overload with medical since I am medical all day long but sometimes you can get some really quippy, quick podcasts that are 5-minutes and go over a quick topic. Those type of things help you to be more efficient with your time and still stay up to date on everything.
SM: Those are some great tips, we do get asked that pretty often and luckily for us being on this side, we have people like you teaching our participants. It is pretty exciting, in a specific conversation, one health system told me, "you know the questions the providers are asking, sometimes I have to go look them up. I don't always have that answer right off the top of my head because they're getting this up to date information from your instructors. So their questions are getting better but sometimes I have to look them up myself."
JP: And y'all have a very unique group of students or group of learners in that they have graduated from their program, they're in the early part of the careers, they're more interactive, and asking better questions. Sometimes when you're giving continuing education to seasoned providers they aren't as engaged and wait to get the code so they can get credit. ThriveAP does have a really unique set of learners that keep you on your toes.
Do you want to join ThriveAP for your continuing medical education? Apply Today!
SM: Luckily we have folks like you that are continuously learning so they can be! I have taken up a ton of your time today so I have one more question, if you could give any advice to the APPs of today to prepare them for a successful future, be it in your path or another, what would that be?
JP: A few things, first, the last few years in healthcare have been particularly difficult due to shortages and obviously covid, but all of the things that have come and been exposed in healthcare because of covid, I think the biggest thing is not to forget your why. Why do you want to do this? Why do you want to take care of patients? What gets you out of bed every morning? That is what is going to drive you to be successful to maintain your high-level of practice. If you forget your why, and you're doing it to go through the motions, that is when you're going to lose a lot of the pleasure and joy out of taking care of patients and potentially you could miss things.
The other thing, I always think it is always important to remember that we have a higher calling in healthcare than other areas of practice and there is a patient at the end of what we are doing. We can't just have a bad day, because a bad day could negatively impact the patient.
I think it is important to have outlets that you can keep good emotional balance, especially given the stresses of being in healthcare now.
Lastly, and this is hard, this is self advice. Don't make your career everything. Your career is important, patients are at the end of what you're doing, it is very important to do your best everyday but if you make your career everything, you're going to look back and not have anything that is meaningful in your life. It is important you make sure to maintain perspective, that is going to help you be a better provider for patients and a better contributor to society.
SM: Wow, those are amazing. I honestly think quite a few of those could be applicable regardless of career path. That is all sound advice that maybe we should all reread every morning.
Thank you so much for joining us today, we are so grateful to have to you speaking for us and helping to educate the APPs of the future.
I hope everyone will join us during our next speaker spotlight as we continue to introduce you to our amazing, expert faculty.
More About Jonathon Pouliot, MS, PharmD, BCPS
Dr. Jon Pouliot has won 12 awards, is a member of 9 professional committees, been in practice for 12 years and has been published 15 times.
Jon was born and raised in Rhode Island. After completing his undergraduate studies at Providence College, he moved to North Carolina for his graduate work, receiving a Doctor of Pharmacy degree and Master of Science in Clinical Research at Campbell University. Upon graduation, Jon moved to Nashville for post-graduate training at Vanderbilt University Medical Center, completing a PGY-1 Pharmacy Practice Residency and PGY-2 Critical Care Residency. Following training, he worked in critical care and emergency medicine practices before joining the Lipscomb faculty in 2016. Jon serves as an instructor in a variety of courses across the curriculum as well as serving as a preceptor at his inpatient Internal Medicine/Emergency Medicine practice site for IPPE and APPE students. His interests include research design and methodology, infectious diseases, critical care medicine, and anticoagulation management. Jon met his wife Deanna shortly after moving to Nashville and they have two daughters.
We are truly honored to have faculty of Jon's caliber in our unmatched expert network. If you're interested in learning directly from experts, like Jon, apply for the ThriveAP program today!
Your email address will not be published. Required fields are marked *
STAY UP TO DATE WITH NEWS & BEST PRACTICES
Form