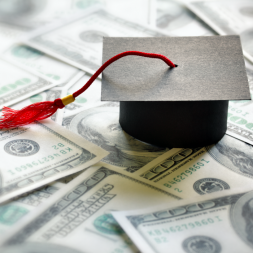 ---
The NHSC has strict criteria that nurse practitioners must meet in order to be eligible to submit an application for the Loan Repayment Program. Specifically, applicants who have not graduated their accredited program, passed the certification exam, or do not hold a current and unrestricted license to practice as a NP are not eligible to apply during the open application cycle; which means that unfortunately, nurse practitioner students are ineligible from applying to the program until they've graduated. Fortunately, there is hope! If you're an NP student with at least one year of schooling left, don't throw your hands up in frustration just yet… the NHSC Scholarship Program may be worth your consideration.
How it Works
The NHSC Scholarship Program (SP) is similar to the LRP in that it pays tuition, but it does so actively and directly to the student's school while they're in attendance. In addition, the program also provides students with an annual payment for other reasonable education-related expenses and a monthly stipend to assist with living expenses while students are in attendance of their program. Recipients are awarded support for one full school year (totalling twelve months) but can also request to be granted additional support for the subsequent school years leading up to graduation, not to exceed more than four years of support.
In return for one year of support given, students agree to provide full time primary health care services for a minimum of at least two years of at an NHSC-approved site in a Health Professional Shortage Area (HPSA) as soon as possible upon graduation, but no later than six months after. For students granted support for more than one school year, the length of the service commitment increases accordingly. For example, one year of support requires a two year commitment at an approved site; but if the student receives three years of support though the Scholarship Program, they are then required to provide three years of service at a site once he or she graduates. Once a student begins their last year of school, they are assigned to an NHSC Regional Advisor who will assist them in successfully finding an approved practice site where they will complete their service requirement.
So what happens if the student does not graduate or fulfill the service commitment after graduation? Unfortunately for recipients, failure to comply with the terms of the contract can cause the student to be liable for repaying all of the funds paid to them and to the school on their behalf. In some cases, when graduates don't comply with their service obligation at all, the US Government may be entitled to recover up to three times the scholarship award plus interest. Yikes!
Who Can Apply
To be eligible, applicants must be U.S. Citizens (either U.S. born or naturalized) or U.S. Nationals. Applicants are also required to be either currently enrolled or accepted as a full -time student, and must be scheduled to begin their classes by the end of September for the school year for which they're applying. In example, for the 2017 – 2018 program, applicants are required to begin their classes on or before September 30, 2017. Students must also be eligible for federal employment and cannot have an existing service commitment.
Eligible nurse practitioner programs must be accredited by the Accreditation Commission for Education in Nursing or the Commission on Collegiate Nursing Education and lead to to national certification as an NP by the ANCC, AANP or the Pediatric Nursing Certification Board. The NHSC also has stipulations for the types of nurse practitioner specialties it will accept. Eligible specialties include adult medicine, family medicine, geriatrics, primary care pediatrics, psychiatric-mental health, or women's health.
Applicants who are either pursuing a non-primary care specialty or are in the pre-professional phase of their health professions education are ineligible to apply for the program. And students who are uncertain of a commitment to primary health care practice in HSPAs are advised not to apply for the program.
The Application Process
Similar to the LRP, the open application cycle for the Scholarship Program opens in the beginning of the year and closes generally at the end of April, at which time the completed online application and all of the supporting documents must be submitted. The supporting documents include a resume, two letters of recommendation (one academic, one non-academic), a report verifying acceptance or enrollment in good standing in an eligible health professions school, school transcripts and a tuition and fee schedule. Applicants will also required to respond to three essay questions.
The application review process is lengthy, occurring over several months. Individuals selected for an award are notified via email or letter by the end of September. Recipients must respond by the deadline in the Notice of Award in order to accept the scholarship. Failure to do so will cause the offer to expire and the award will be given to an alternate. The NHSC has a strict policy that there will not be any opportunities to reclaim the award once the deadline has passed.
The Selection Factors
The Scholarship Program is highly competitive with more applicants than there are funds available. In 2016, the program only selected 213 students out of 2,275 applications (8 of whom were previously awarded scholars). NHSC determines awardees using various selection factors and funding priorities.
Selection factors include history of honoring prior legal obligations, academic performance and commitment to a career in primary care and underserved communities. Funding priority is given to current or former NHSC Scholarship Program scholars who are eligible for additional support through their date of graduation first, followed by applicants who have characteristics likely to remain in HPSAs, and then applicants who are from a disadvantaged background.
Transitioning from the NHSC Scholarship Program to the Loan Repayment Program
Nurse practitioners who participated in the Scholarship Program can apply for consideration for the Loan Repayment Program once they have either completed their service requirement for the SP or if their service commitment will be fulfilled by the end of September of the year in which they're applying. Despite being awarded support through the Scholarship Program, all applicants are required to meet the same LRP eligibility and application requirements; with the exception that nurse practitioners who participated in the SP can choose to remain at the same NHSC approved site or they can transfer to a new site before the Employment Start Date Deadline of the Loan Repayment Program.
If you're interested in applying for the next Scholarship Program, don't miss the application cycle. Sign up here to be notified of when it opens in early 2019.
Do you plan to apply to the Scholarship Program as a nurse practitioner student?
Your email address will not be published. Required fields are marked *
STAY UP TO DATE WITH NEWS & BEST PRACTICES
Form