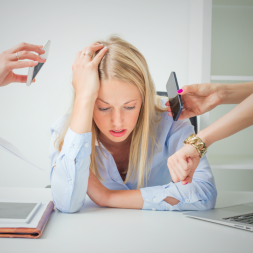 ---
The other day I checked out my work schedule for the coming months. I felt a flood of dread overcome me. The reaction was automatic and as I rationally examined my thoughts, I wondered what was different. Just a few weeks ago I returned home from work thinking about how much I loved my career and enjoyed the work I do as a nurse practitioner. It seemed that little had changed in the interim.
As I picked apart my thoughts, I realized that my dread lie in the fact that I recently accepted a new PRN position. In many ways, the job is the same as that in other emergency departments where I have worked over the last seven years. I treat patients with the same kinds of diseases. I work alongside pleasant physicians, nurse practitioners and physician assistants who get along well as a team. The difference was that the job is a new one. And, a new job inevitably means new challenges.
NPs and PAs in this hospital are expected to practice with more autonomy than in the other facilities where I have worked. While support in the clinical setting is there, the norm is that NPs solve problems on their own or by consulting specialists. Although this makes for a good learning experience, these standards place more pressure on me personally at work. My scenario is a reminder that even experienced nurse practitioners face challenges.
While I've overcome the uncertainty, nervousness and overwhelmed feelings that plagued my new grad days, working as a nurse practitioner can still be trying at times. Based on my experiences and those of other NPs I talk with, here are a few challenges that even seasoned NPs can expect:
1. Growing Pains
You don't have total control of your career as a nurse practitioner. The facility you work for may grow, change, or introduce new standards or guidelines. Government entities make ever-changing decisions about the way your work and license to practice are regulated. While some of these changes may affect your practice favorably, others will present challenges. Maintain perspective in the face of such changes and focus on controlling and changing the things you can. It's not worth exerting time and energy to fight aspects of your practice you can't influence. Rather, identify innovative solutions to new challenges you face within your circle of impact.
2. The Blah, Blah, Blah's
Working as a nurse practitioner can have its monotonous moments. While NPs can treat many kinds of patients with a variety of medical problems, most nurse practitioners ultimately settle in a niche and work with the same types of patients repeatedly. If you find yourself in a slump, seek out additional learning opportunities. You may attend a conference or do some supplemental reading or skills training to hone your skills. Alternately, you may choose a switch practice settings to mix things up. When your career seems dull, introduce a new challenge or experience to keep your mind and motivation in the game.
3. Setting Switch-Up
Change is hard. Unfamiliar experiences can be anxiety provoking. It's always difficult to be in a situation where you aren't sure how to act, especially in the professional arena. Whether you have a new medical director over your department or you've switched employers completely, anticipate challenges when your professional boat gets rocked. Observe closely to absorb the new norms in your clinical setting and adopt these to reintroduce stability into your day-to-day. Adjusting to new scenarios takes time. Give your situation a chance before you write it off completely.
4. Balance (It's Not Just a Cliché)
Personal stuff comes up as do difficult times professionally. Sometimes the two collide, occurring all at once in one big stressful mess of life. When this happens, you can't focus at work or at home. It seems like you're ineffective at managing all aspects of your life which is just downright frustrating. In my experience, there's no quick fix for these times – it's more of a do-the-best-you-can situation. You can take comfort in the fact that things will change, and hopefully for the better…soon!
5. You Still Don't Know Everything
As a nurse practitioner, there's always more to learn. The scope of clinical knowledge you can use in your practice is vast. So, there's continually room for improvement. It can be frustrating as a clinician when questions arise or you aren't quite sure how to care for a patient. At times, this can even cast doubt in your mind as to your abilities as a nurse practitioner. Remember that without a challenge or two, your job would get boring and your skill set would grow stagnant. When frustrations arise in this area, adapt your perspective to be one that embraces the learning opportunity.
What challenges do you face as an experienced nurse practitioner?
You Might Also Like: 6 Ways to Re-Energize Your Nurse Practitioner Career
Your email address will not be published. Required fields are marked *
STAY UP TO DATE WITH NEWS & BEST PRACTICES
Form