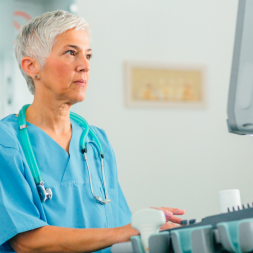 ---
I plan to remain active well into old age. Stories like that of the pole-vaulting granny and the fact that my own 103 year-old grandfather mowed his lawn until the age of 99 inspire me never to use age as an excuse not to do something. Unexpectedly, one question I receive frequently from readers is "Am I too old to go back to school to become a nurse practitioner?". Given this go for it spirit, my natural inclination is to respond that "you are never to old to become a nurse practitioner". But, becoming an NP is a time-consuming and costly undertaking and must be carefully considered.
If you have been working a while and are nearing, gasp, older age, there are a few things to consider before going back to school to change or further your career. While you certainly should be able to handle the mental and physical demands of an NP program and a career as a nurse practitioner, becoming an NP is a big time and financial commitment. There are a few things you should think about before going back to school later in life.
How much will it cost you to become a nurse practitioner? How will this fit into your current and future financial plans? Nurse practitioner programs can be quite costly. Even though an NP career will likely give your salary a boost, it takes a while for this salary increase to offset the cost of the NP education. Get out your calculator and figure out how long it will take you to recoup the money spent on your NP program. If the numbers don't add up to your advantage, you may want to reconsider going back to school. Taking on significant debt is more risky as you near retirement. Consider this risk before taking on hefty student loans. For some students, the experience and accomplishment that comes with becoming a nurse practitioner may be worth the hit to your bank account. But, for most students getting an advanced degree must add up financially.
How long will it take you to become a nurse practitioner? How does this fit into your retirement plan? Depending on your situation it will likely take you a few years to become an NP. If you are a nurse with a BSN degree, you can count on about two years of school to get your NP degree, more if you attend your program part-time. If you have a bachelor's degree in a field other than nursing it will take anywhere from two to four years to become a certified nurse practitioner depending on the program you choose. Two to four years isn't an insignificant time commitment. If you plan to retire in the next few years, consider if the time commitment associated with the NP education is something you are willing to take on.
Will I be competitive in the NP job market when I graduate? Unlike most professions, older NPs have the advantage here. Healthcare employers are looking for mature, responsible and experienced nurse practitioners. Even if you are a new nurse practitioner, 20 years of prior nursing experience will make your resume stand out above those of other candidates. Many clinics and hospitals have high turnover rates among nurses and NPs allowing older nurse practitioners to find jobs as easily as younger candidates.
You're never too old to take on new challenges and becoming a nurse practitioner may be the perfect goal to pursue. Attending an NP program at any age is a weighty personal and financial decision. Most students young and old will find that becoming a nurse practitioner is the way to go, but like any commitment it must be carefully considered.
You Might Also Like: 7 Habits of Highly Effective Nurse Practitioner Students
Your email address will not be published. Required fields are marked *
STAY UP TO DATE WITH NEWS & BEST PRACTICES
Form