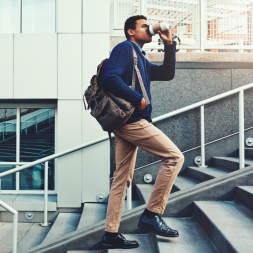 ---
How do you use your downtime? As a nurse practitioner, even with ten years of experience, I often feel that I still have so much to learn. One of the great (but challenging) things about the medical profession is that healthcare is constantly evolving and changing. To help keep up to date with the latest in clinical practice, I often turn to podcasts. These audio education series are the perfect way to put downtime in the car to use and pay off in my practice.
If you're a nurse practitioner working in primary care, consider these six podcasts to get keep your knowledge fresh, all during your commute.
The American Academy of Family Physicians releases two new episodes each month covering a wealth of primary care information. Each episode contains a collection of primary care topics in segments anywhere from 2 to 15 minutes in length. These brief segments are the perfectly palatable way to add a touch of learning to your day without feeling too overwhelmed with new knowledge after a long day of seeing patients.
If you're looking for a podcast to accompany your commute time, PeerView Press is your source. These 20-30 minute episodes discuss a wide array of internal medicine topics promising to improve your nurse practitioner know-how.
The British Medical Journal produces a large collection of podcasts categorized by topic and specialty. The British Journal of Sports Medicine, for example, covers topics like "Ankle Sprain Management and Chronic Instability" while the Gut series covers topics such as "Gut Microbiome and Liver Diseases". Whether you're a family nurse practitioner turned specialist, of simply looking for an overview of a variety of primary care topics, the BMJ has an episode for you.
Consistently receiving top rankings among primary care podcasts, Primary Care RAP provides an all-around primary care overview. The podcast is well done and more engaging than most other healthcare podcasts (read less monotone). While there is an annual fee to subscribe to the podcast series, Primary Care RAP does release one free podcast each month. Students receive a significant discount on the series and would do well to look into a subscription. Nurse practitioners might also consider funding a subscription with continuing education dollars provided by an employer.
Medscape Family Medicine is the perfect podcast for a quick shot of primary care information to start your morning. Episodes are just 3 to 9 minutes long making them easy to fit in during downtime in the clinic or on the road. Topics include "How to Choose a Basal Insulin", "Prescribing a Diet to Treat Depression" and more. With nearly 50 episodes in the collection, Medscape Family Medicine gives nurse practitioners a succinct rundown of the latest in primary care.
While Texas Tech MedCast is geared toward medical students, new grad nurse practitioners can certainly benefit from its content. The podcast discusses chronic disease and the basics of practice, starting with topics like documentation and SOAP notes. Sessions such as "Documenting a Diabetic Patient Visit" and "FAQ on Lipids and Nutrition for Diabetes" promise to help less experienced nurse practitioners enhance their clinical knowledge on-the-go.
What are your favorite primary care podcasts?
You Might Also Like: 9 Cheap Ways to Make Your Workspace Less Depressing
Your email address will not be published. Required fields are marked *
STAY UP TO DATE WITH NEWS & BEST PRACTICES
Form