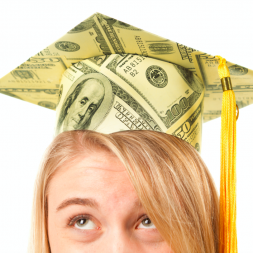 ---
While the traditional route to become a physician assistant can take years to complete, accelerated degree programs have become more common at universities and colleges across the nation. The combined degree programs allow high school graduates to enter at the freshman level and earn both a Bachelor of Science degree and a Master of Science in Physician Assistant Studies upon graduation; with most curriculum plans taking about five years to complete.
For students who are certain of their decision to become and PA and eager to begin their careers, BS/MS programs are not only more efficient, but are also more cost effective in the long run.
On paper, the total tuition for accelerated programs may seem like the more expensive route to take. But because most PA programs calculate tuition at a flat rate per year or per semester (as opposed to a rate based on total credit hours) a shorter amount of time in school means a less tuition overall. While each university is different and program costs vary across the board, the ThriveAP team has sought out cost estimates for BS/MS Physician Assistant Programs. Here are those with the highest price tag:
Est. Tuition: $231,147
Duquesne University has led the way as the nation's first entry-level Master's degree program and serves as a model for other similar programs following in its footsteps. Although the most expensive PA Program in the nation overall, the tuition covers the cost for all five years in program, in which students enter as freshmen without ever having to reapply to the program at any point. Because of the program's format, Duquesne does not accept transfer or second degree applications. As an incentive for those concerned about the cost of tuition, Duquesne offers a memorial recognition award to provide financial support to the 4th year Physician Assistant Student who best embodies similar positive attributes as the awards' namesake.
2. New York Institute of Technology
Est. Tuition: $220,837
In addition to offering a traditional MSPAS program, NYIT offers a combined BS/MS degree program that can be completed within six years of attendance. While students of the program can transition into the Master's program once they have successfully completed the first three years of the pre-professional phase, they are still required to apply and interview for the MS program, as well as meet other certain standards in order to continue on. If students are not accepted into the MSPAS program, they must complete the requirements for another B.S. degree in the life sciences department. While tuition is rather steep for the full six years, NYIT awards grants and scholarships every year, greatly reducing the cost of tuition for 80% of its students. Students of the PA programs at NYIT have the opportunity to participate in outreach programs in various parts of the world as well as the option to earn a Certificate in Global Health, which allows them to engage in global health practice, policy, and the development of solutions to the world's vital problems.
Est. Tuition: $184,780
Gannon University allows aspiring PAs to enter at the freshman level and complete the Master's program without any reapplication requirements throughout the program. Its rigorous curriculum is designed for first-time students entering at the freshman level. While the university does accept transfer students into its PA program, it currently does not offer post-baccalaureate spots to students outside its five year program; as such transfer students are required to enter at the freshman level regardless of the number of credits that he or she has previously earned. At Gannon, PA students receive exceptional, faculty-mentored research opportunities as well as the chance to learn in the region's largest technically advanced Patient Simulation Center, equipped with 14 medium and high fidelity patient simulators, intravenous training stations, a computer lab and more.
Est. Tuition: $162,400
While most BS/MS PA programs can be completed in as little as five years, students at DYC have the opportunity to graduate in just four and half short years, thanks to the college's option to take graduate courses in the evenings, online and during scheduled breaks. In addition, there are never any reapplication requirements for students in the program. To help alleviate the cost of tuition, DYC automatically considers every applicant for a merit scholarship. PA students at DYC receive unique learning experiences while attending the college such as practicing teamwork in an interdisciplinary education lab alongside students enrolled in seven of the school's other healthcare programs.
Est. Tuition: $142,989
Aspiring PAs wishing study at Wagner College have the option to complete the first two years of pre-professional curriculum as either entry level freshman at the school (increasing the cost of the total tuition) or at another accredited college of their choice. While Transfer/Second Degree admission into the program is allowed before the start of the BS curriculum, acceptance is very limited and preference is given to students who are already in attendance at the college. However, existing students are not guaranteed direct entry and still must meet specific requirements as well as interview for continuation into the three year BS/MSPAS program. In recent years, Wagner College has begun offering PA students the opportunity to participate in Expanding Your Horizons (EYH) medical mission trips; during which participants travel to countries such as Belize and Guatemala to provide basic medical care in rural villages. Participants in EYH are immersed in clinical and recreational activities, a truly unique opportunity that creates for memorable educational experiences!
*Tuition costs listed are an estimate and are subject to change. Other fees may apply. Contact your PA school of interest for the most up to date information on the cost of attendance.
Your email address will not be published. Required fields are marked *
STAY UP TO DATE WITH NEWS & BEST PRACTICES
Form