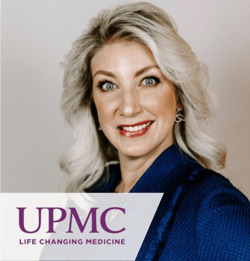 Amy L. Haller, MBA, MPAS, PA-C is the Director for the UPMC Center for Advanced Practice Education and the Clinical Project Director for the UPMC Office of Advanced Practice Providers (OAPP) in Pittsburgh, Pennsylvania. UPMC is one of the largest employers of certified nurse midwives, certified registered nurse anesthetists, certified registered nurse practitioners, and physician assistants in the country and employees over 3,600 Advance Practice Providers (APPs) as of May 2021 across Pennsylvania, New York, and Western Maryland. Amy leads key strategic programming to enhance the educational offerings and clinical programming for all Advanced Practice Providers across the UPMC Health System. She has led the development of APP Fellowship training programs, creation of a systemwide APP Mentorship Program, and collaborated with the University of Pittsburgh School of Health and Rehabilitation Sciences to create a unique Advanced Practice Provider Leadership Certificate Course which she co-directs. In addition, Amy maintains clinical practice in General Surgery and covers critical care gaps on two different Surgery Services at three different UPMC facilities and holds Adjunct Faculty appointments at both Duquesne University and the University of Pittsburgh Physician Assistant Programs.
Amy earned a Bachelor of Health Sciences degree in 2008 from Duquesne University, a Master's degree in Physician Assistant Studies in 2008 from Duquesne University, and went on to graduate from the Yale University/Norwalk Hospital Post-Graduate Surgical Residency for Physician Assistants in 2009. In 2019, she then earned a Master's degree in Business Administration from Chatham University with a concentration in Healthcare Management.
She has been an active member of a variety of professional organizations/societies, with leadership roles specifically within the Association of Post-Graduate Physician Assistant Programs and held the role of Secretary/Treasurer from 2014-2019. Amy holds membership to Pennsylvania Society of Physician Assistants and the American Academy of Physician Assistants and was inducted to the Pi Alpha National Honor Society for Physician Assistants in recognition of significant academic achievement, leadership, research, service, and high standard character and conduct in 2020. Her greatest achievements and motivators in life are her husband Ed, 5-year-old son Henry, and 19-month-old Daughter Ivy.